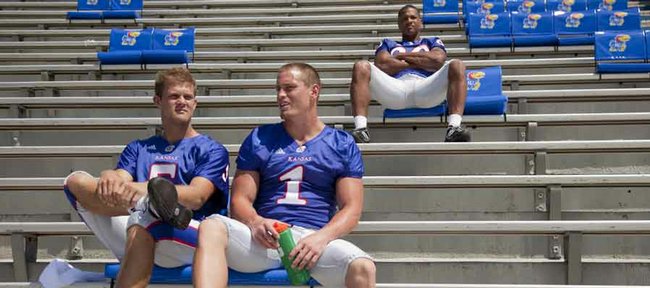 Slummin' it.
That's probably the best way to describe the workout arrangements employed by Kansas University junior receiver Dezmon Briscoe during a prolonged suspension his coach says stemmed from academic issues.
To stay in shape, the Dallas native — and likely high-round NFL Draft pick if he chooses to forgo his senior year at KU — worked out at the KU student rec center. He dodged traffic while running through campus. And after a good stretch of this sort-of solitary confinement — his temporary dismissal left him banished from participating in team activities — he realized one essential thing: It would probably be best, in the future, to meet the requirements laid out by his team's coaching staff.
"Throughout that break (when) I wasn't with the team, it made me feel like I wasn't a student-athlete," Briscoe said during Tuesday's football Media Day at the Anderson Family Football Complex. "I felt like I was just a student. The privilege of being a student-athlete is something that most people would love to do. Most people would love to be in my shoes."
Since being reinstated for the start of training camp Friday, Briscoe has been a lesson in humility. He says he has apologized to a handful of teammates privately and called his suspension "heartbreaking," adding that the offseason success of fellow receiver Johnathan Wilson has inspired him to regain the form that helped him set school records last season for receiving yards (1,407) and touchdowns (15).
And while it's hard to spin his extended absence into a positive — as senior receiver Kerry Meier put it, "it's definitely not good" — Briscoe said Tuesday that the experience has given him a newfound appreciation for the "blessed" position in which he currently finds himself.
"He feels like it's behind him now," KU coach Mark Mangino said. "And his attitude's been good, and he's having a really good camp. He learned a valuable lesson — like everybody does in life once in a while"
With his priorities apparently in check, the question now becomes whether the 6-foot-3, 202-pound receiver can catch up physically before the Jayhawks open the season Sept. 5 against Northern Colorado.
Briscoe said that his time away has resulted in some obvious rust — "With me missing the spring and a chance to get better, yeah, of course I'm a step back," he said — although some signs indicate that the drop-off has been, at worst, marginal.
"Looking at him out there, I don't think he's missed too much," Mangino said. "He's made some mistakes that he normally doesn't, but I think he's fine. If you see the plays he's made on the field, he doesn't look like he's lost too much."
As for his teammates, there does not appear to be grave concern over Briscoe's ability to impact games during the upcoming season.
"He's the type of guy that can go out and perform, and that's what he's going to do," Meier said. "He makes plays every day, and I'm not surprised the way he does it.
"Big things are in store for Dezmon this year."
More like this story on KUsports.com