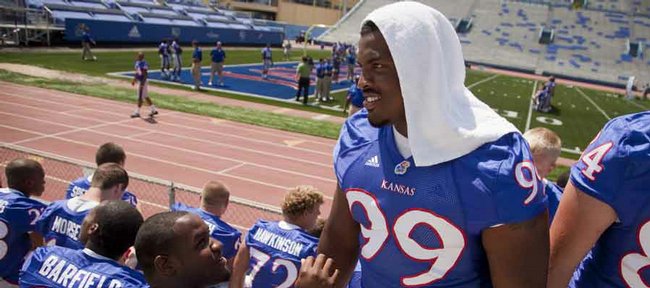 Freshman LB to start?
Questions about how Kansas University's coaching staff plans to replace three starting linebackers were answered Tuesday — at least in part.
Citing the limited availability of Justin Springer (injury) and the slower-than-expected progress of running back-turned-linebacker Angus Quigley, KU coach Mark Mangino all but guaranteed that one of the starting linebacker positions would go to Huldon Tharp, a true freshman out of Mulvane.
"You're going to see Huldon Tharp play, there's no question," Mangino said during the team's annual Media Day at the Anderson Family Football Complex. "... I think we're just counting the days until he wins the job. We want to see him on tape in a scrimmage, and we think that's just going to be a rubber stamp putting him at a starting position."
Although Quigley and junior Drew Dudley worked as the first-team linebackers for the majority of Tuesday morning's practice, Mangino made it clear that the 6-foot, 215-pound Tharp was on his way to earning a starting role in his first year in Lawrence.
He also issued an ultimatum of sorts to veteran players hoping to find a place in the team's linebacking corps.
"They've got a few days here to buckle down and make a statement," he said, "or (they) are probably not going to be in the mix."
Briscoe to return kicks
Apparently, Dezmon Briscoe's short tenure as a kick returner at the end of last season was enough to earn him the starting role at the position this fall.
Mangino said Tuesday that Briscoe — who averaged a team-high 27.4 yards in eight returns last season — will be the likely starter entering 2009, although he also highlighted the potential of true freshman receiver Bradley McDougald, a four-star recruit from Dublin, Ohio.
"We want to keep Dez healthy, but if he's the best —and our special teams have got to be good if we want to have a good football team — then there's a good chance that means he's got to be a part of it."
As for punt-returning duties, meanwhile, Mangino indicated that Briscoe, receiver Johnathan Wilson and cornerback Daymond Patterson would compete for the starting spot.
LB Brooks leaves camp for family emergency
Transfer linebacker Vernon Brooks, a junior college All-American at Blinn College in Texas, left training camp Tuesday to deal with a family emergency, and his immediate future with the team is uncertain, Mangino said.
"He's got some family issues that he's tending to, and I just can't tell you what impact — if any at all — that he would have," said the coach. "The more he's out of camp … for a new transfer, it's really difficult to get into the groove."
Parish moved to OL
In the first significant position change since KU training camp began last week, sophomore Darius Parish has moved from defensive tackle to the offensive line.
Saying the 6-4, 314-pound Parish had offensive lineman "written all over him" since arriving in Lawrence last year, Mangino indicated that the use of the Wichita native at defensive tackle last season was the result of a lack of depth at the position.
"Out of necessity we had to use him there," Mangino said. "But I think he's found a home, and I think he'll end up being a pretty good football player for us on the offensive line."
Lueken looking for 'fresh start'
Less than a week after the departure of sophomore offensive lineman Ben Lueken, Mangino said Tuesday that the player's desire for a clean slate was the motive behind his decision to leave KU.
"He told me that he wanted to pursue other opportunities, for whatever reason," Mangino said. "And I'm in favor of him doing that. ... I think he just wanted to get a fresh start somewhere, and I think that's fine."
Lueken, who was hospitalized following an April incident outside of Jayhawker Towers that involved then-KU running back Jocques Crawford, played in nine of the Jayhawks' 13 games as a true freshman last season and was expected to figure prominently into the team's offensive-line rotation in 2009.
More like this story on KUsports.com