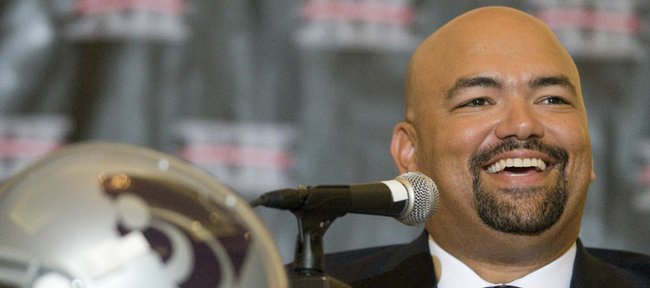 Kansas City, Mo. — Accusing Kansas State of "wanton and malicious misconduct," lawyers for former football coach Ron Prince asked for more than $6 million Monday and said it was the school, not Prince, who wanted a controversial contract to be confidential.
In their written response to a lawsuit filed against Prince by Kansas State, Prince's attorneys also indicated that former Kansas State President Jon Wefald may have known about the agreement calling for Prince to be paid $3.2 million in deferred compensation between 2015-2020.
Prince is also seeking $3 million in punitive damages.
Kansas State filed suit in U.S. District Court in Topeka, in May seeking to void the agreement, claiming it was made in secret between Prince and former athletic director Bob Krause and without the knowledge of other university officers, including Wefald.
In documents filed Monday, Prince's attorneys said the university agreed to guarantee a $1.2 million buyout and that the school's Intercollegiate Athletic Council, headed by Krause, subsequently agreed to fund the $3.2 million in deferred compensation.
Prince, unpopular with players and fans, was fired last November with a 17-20 record, three months after signing a new five-year contract. He was replaced by former coach Bill Snyder.
Wefald, who retired in June, maintains that he knew nothing of the agreement with Prince and that he asked Krause to resign when he found out.
Athletic director John Currie declined to comment Monday. A call to Wefald's home in Manhattan was not answered. Neither Krause nor Prince, now an assistant coach at Virginia, have spoken publicly about the deal.
In a statement Monday, Neil Cornrich, Prince's lawyer, said Kansas State "insisted that the additional guarantee be contained in a separate, confidential memorandum."
"Coach Prince did not request such confidentiality, nor did he care whether the agreement was public, but accommodated the university's request," Cornrich said.
In the response to Kansas State's lawsuit, Prince's attorneys said it was Krause who suggested the deferred compensation package and that he "held himself out as having the authority to represent the University and the IAC" in negotiations with Prince.
The filing said that a university lawyer "forwarded the proposed contract with the appropriate change in language directly to Mr. Krause, Mr. (Neil) Cornrich, as well as Jim Epps, Bob Cavello, Ron Prince and the President of Kansas State University, all of whom had actual or constructive knowledge that this was no longer the entire agreement between the parties."
Epps and Cavello, both longtime Kansas State athletic department officials, have been placed on administrative leave.
More like this story on KUsports.com