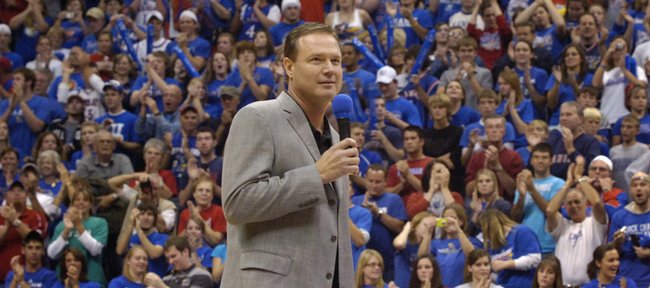 Bill Self, who spent most of the month of July on the recruiting trail, is refreshed and ready for the 2009-10 school year to begin.
"We've not hit it too hard since recruiting's been over. We've had a chance to do a couple fun things," Self, Kansas University's seventh-year basketball coach, said Monday. "But summer's officially over now. It's time to get busy."
Self didn't say where he and his family vacationed in early August and can't say much about his July recruiting trips to Las Vegas, Orlando, Fla., and other sites of AAU tournaments.
Remember, he's not allowed to discuss specific prospects in accordance with NCAA rules.
"I don't know how we're doing. We've got one commitment. We could get as many as three more. We want a tall guard, a big and then a point would be our immediate needs," Self said.
KU in May of 2008 received an oral commitment from Royce Woolridge, a 6-foot-3 senior from Phoenix's Sunnyslope High. The Jayhawks will have between two to four scholarships to award to players in the Class of 2010.
KU loses seniors Sherron Collins and Mario Little, with Cole Aldrich expected to leave for the NBA after his junior year and Xavier Henry to do the same after one season.
All the Jayhawks — including Xavier and C.J. Henry, who did not attend summer school — likely will be on campus Monday as the Jayhawks begin arriving for the start of first-semester classes on Aug. 20.
"They (Henrys) came up last week to get C.J. situated in his apartment," Self said.
C.J. will live off campus, Xavier in Jayhawker Towers.
"I encouraged him to live off campus. He's 23 years old and been living on his own for years. At 23 years old, I don't have an issue with that at all," Self said of C.J., who played minor-league baseball for the Yankees for three seasons.
Self said the Henrys have been working out hard on their own in Oklahoma City. He said 6-6 Xavier weighs "in the vicinity of 220 pounds" and 6-3 C.J. around 208.
"They have had their own trainer working with them in the gym," Self said. "They've been doing two-a-days most days and should report in very good condition based on what I've been told. They work on conditioning twice a day and get in the gym and work on their game together."
Self said the broken bone in C.J.'s foot has healed.
"He's been released to be basically full speed the last month or so. He hasn't done too much. We've encouraged him to go slow," Self said. "He's done work in the pool and treadmill as well as other things."
As Self reported a couple of weeks ago, the previously injured Jayhawks (Elijah Johnson, knee; Brady Morningstar, foot; Mario Little, lower leg; Jeff Withey, thumb) all have been cleared for workouts.
"I think everybody will report back and be in good physical condition from an injury standpoint," Self said. "I don't think we have any issues. We had a summer in which we were pretty beat up."
He said Morningstar, who spent a month working out with former KU assistant coach Bob Hill, trainer Frank Matrisciano and college and NBA players in San Francisco, "will probably be the best conditioned guy on the team as well as Tyrel (Reed)."
As far as KU's facilities ... the Jayhawks should be able to start working out in the new indoor practice facility on Aug. 24. The coaches also should move into their renovated offices in about two weeks.
"It'll be nice when we get moved into the offices and obviously the facility," Self said. "The first couple months of the school year will be makeshift (with fieldhouse renovations to be complete by the Oct. 16 Late Night in the Phog).
"It'll be worth it," he added.
KU, two others on Jackson's list
Joe Jackson, a 5-foot-11, 150-pound point guard from White Station High in Memphis, has narrowed his list of schools to Kansas University, Memphis and Tennessee, according to Rivals.com. He is Rivals.com's No. 18-rated player nationally.
Meanwhile, future Kansas University basketball guard Royce Woolridge will make his official visit to KU for Late Night in the Phog, Rivals reports. KU has two other confirmed visitors: Josiah Turner, a 6-3 junior shooting guard from Sacramento (Calif.) High School, and J.P. Tokoto, a 6-5 freshman small forward from Menomonee Falls (Wis) High.
Thomas has surgery
Las Vegas — Former Kansas University basketball forward Quintrell Thomas, who has transferred to UNLV, had surgery on July 31 to repair a torn labrum in his left shoulder, the Las Vegas Sun reported.
The 6-foot-8 New Jersey native will be out the next six months. He cannot play in games this season in accordance with NCAA transfer rules.
Thomas averaged 1.5 points and 2 rebounds per contest in his freshman season at KU. He will have three years of eligibility remaining starting with the 2010-11 season.
More like this story on KUsports.com