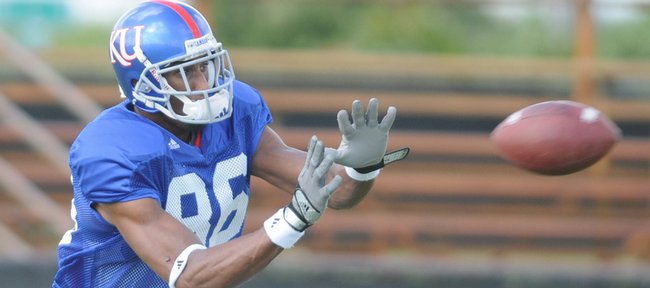 Ex-Jayhawks in NFL
Here's a list of former Kansas University football players who are in camps of NFL teams:
Anthony Collins, OT, Cincinnati
Derek Fine, TE, Buffalo
Justin Hartwig, C, Pittsburgh
Marcus Henry, WR, N.Y. Jets
James Holt, LB, San Diego
Adrian Jones, OG, Houston
Moran Norris, FB, San Francisco
Brandon Rideau, WR, Chicago
Mike Rivera, LB, Chicago
Mark Simmons, WR, Houston
Aqib Talib, CB, Tampa Bay
Well after the horn blew to signal the end of the morning practice at New York Jets camp Sunday morning, No. 14, a wide receiver trying to make the cut, talked about his year on the practice squad in 2008.
"Being around athletes I used to watch on TV was pretty cool," said Marcus Henry, former Kansas University playmaker extraordinaire. "Getting to know Brett Favre was pretty cool. He used to sit in front of me in meetings, and he would turn around and talk to me all the time. He was cool. He's a really funny guy."
The Jets selected Henry in the sixth round of the 2008 draft, released him at the end of training camp and immediately re-signed him to the practice squad. He took his thrills where he could get them. If that meant getting to know Favre — one of the game's most well-liked figures before annoying a nation of sports fans with his annual should-I-stay-or-should-I-go drama — at meetings, so be it. That was then.
This is now: "I'm looking to make the team. I feel pretty confident. I'm showing them what I can do. Finishing on blocks, catching the ball. ... Hopefully, I'm impressing them."
Ultimately, of course, it doesn't matter what Henry thinks. A year ago, the organization saw enough potential in the long, fleet native of Lawton, Okla., who came to Kansas as a lightly regarded recruit and made big strides every season, earning All-Big 12 honors as a senior to keep him on the practice squad. Henry has to prove himself all over again. Coach Eric Mangini now is head coach of the Cleveland Browns.
Rex Ryan, son of former NFL coach Buddy Ryan, has replaced Mangini. Thus far, Ryan has gained a reputation as a more candid quote than most coaches of high-profile teams. Asked how Henry has looked in camp so far, Ryan didn't sugar-coat what a tough battle Henry has ahead of him.
"You know, OK, he's had his moments," Ryan said. "You know, he's come up with some big catches and stuff like that."
One of those catches, a 38-yard gain after he went up to catch at the ball's high point, just as he was taught at Kansas, impressed the crowd at State University of New York at Cortland, a Div. II school serving as host of Jets camp for the first time.
The coach continued: "I don't put him up there with ... "
Ryan checked his swing before naming receivers ahead of Henry.
"I think right now," Ryan said, "the competition, it's tough. When you get down to, right now, looking at who's doing what, he's got a chance to make this team, but it's not going to be easy. He's doing a good job."
Season-ticket holders frustrated that exhibition games must be part of the package for which they pay big bucks and television viewers who rather would watch re-runs than football games that don't count in the standings are fond of using the term "meaningless exhibition games." For Henry, they are anything but.
"I think we're going to end up cutting a good football player or two on this football team," Ryan said. "But again, I'm not saying he's going to get cut. He's working to make this team, which is encouraging. He's got size, which is something that we really don't have. He has great size, but again, it's tough. I think the competition is good. We'll see how they separate each other when we start playing exhibition games."
The Jets have 10 receivers in training camp. The other nine, listed alphabetically: Aundrae Allison, David Clowney, Jerricho Cotchery (13 catches, 171 yards, one touchdown against Kansas in the 2003 Tangerine Bowl), Britt Davis, Paul Raymond, Brad Smith (former Missouri quarterback), Chansi Stuckey, Huey Whittaker, Wallace Wright.
The 6-foot-4 Henry, who has added muscle to his frame and lists his weight as 220 pounds, said he has done a good job of concentrating on what he needs to do to impress coaches and has avoided the temptation of trying to figure out where he ranks in the crowded receivers competition.
He said he is not surprised some are picking Kansas to win the Big 12 North.
"I'm real proud of the Jayhawks, especially going back to a bowl game last year," Henry said. "I think they have the talent to win it."
Henry said he is not among those who think Todd Reesing does not have the size to play in the league in which Henry is trying to earn a spot.
"The way he throws the ball and reads coverages, I think he can play in the NFL," Henry said. "With him at quarterback, you always knew he would put it where you expected it to be, and he'd get it out there on time."
He also said he thought Reesing's favorite targets, Kerry Meier and Dezmon Briscoe, had NFL futures.
"Kerry's such a good athlete, and I think he's one of the best receivers in college right now, the way he runs his routes and his hands," Henry said. "And he's a lot faster than he looks. I think people are used to seeing him play quarterback, and they didn't get to see his speed as much there. He's fast. And Dezmon's going to be good, real good."
Listening to his coach talk about the competition in camp at the receiver position left the impression that Henry is going to have to be good, real good, during the exhibition season to secure a spot on the Jets' roster.
More like this story on KUsports.com