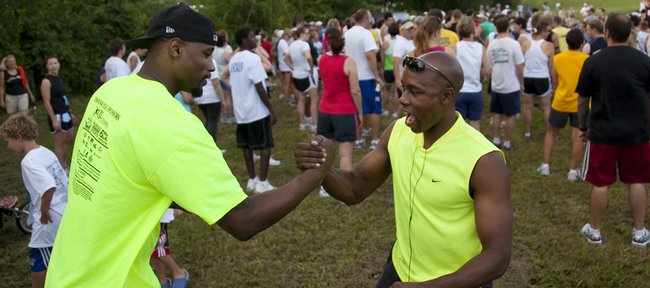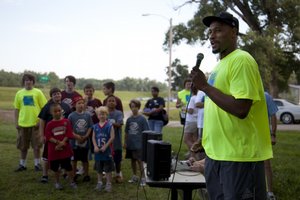 A handful of spectators and competitors presented Darnell Jackson with donations to his favorite charity early Saturday morning near the Kansas River levee.
The former Kansas University basketball forward collected some cash before the start of the 8 a.m. Boys and Girls Club Red Dog Run road race.
He then moved over to the Dillons on Sixth St. and Wakarusa. That's where a steady stream of fans paid $5 per autograph, with all proceeds benefiting the Boys and Girls Club — an organization Jackson credits for transforming him from a self-proclaimed "troublemaker" into a solid citizen.
It was a three-hour show of support for the second-year Cleveland Cavaliers NBA player, who hopes to return to support the cause again next August.
"To me, it's about raising money for the kids, not about people wanting to see me," Jackson said.
The 6-foot-9, 253-pounder concedes he has an ongoing love affair with the people of Lawrence.
"This is home to me. I will get a house here eventually like the rest of the guys," Jackson said of the many former KU players living in Lawrence, including guard Jacque Vaughn, who competed in Saturday's Red Dog Run.
Jackson admitted, "I could be one of those guys," when asked if he was one of the Boys and Girls Club's proudest success stories. He discussed the work of the group in an article that appeared in Thusday's Journal-World and is available on KUSports.com
"There's probably a lot more out there with stories better than me. I'm just grateful to them. They teach you so many things that help you in the future, like being respectful to others."
Notes
•A lot of sitting: Jackson, who was selected in the second round of the 2008 NBA Draft, averaged 1.9 points, 1.7 rebounds and 8.4 minutes a game in 51 games (two starts) his rookie season for a talented Cavaliers team that reached the Eastern Conference finals.
Jackson admitted it was tough adjusting to limited minutes after playing a significant role in helping KU claim the 2008 NCAA title.
"Definitely I was bored sitting on the bench watching the guys play," Jackson said. "I was hoping coach (Mike) Brown would say, 'D-Block, get in the game.' Coach Brown is the boss. I've got to do the things he wants me to do to earn playing time."
And that is ...
"Being myself. Doing the things I was doing last season, playing defense, rebounding and knocking down shots when I'm open," Jackson said.
•Lots of gear: Jackson signed newspapers, magazines, hats, T-shirts and all sorts of KU gear at Dillons. About 15 fans were in line for the start of the 9 a.m. to noon signing session. ... Jackson addressed spectators and runners before the start of the Red Dog Run, indicating the importance of the Boys and Girls Club and how much it meant in his life. He also praised "Red Dog" — Don Gardner — organizer of Lawrence's Red Dog's Dog Days fitness program.
More like this story on KUsports.com