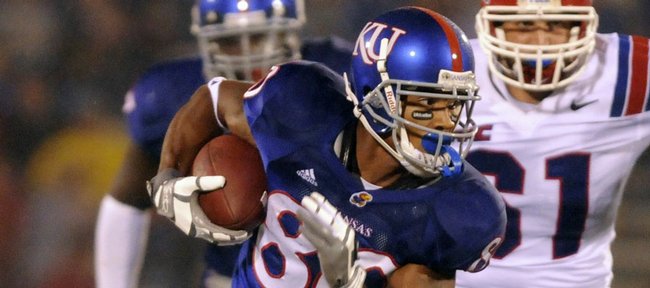 Kansas University's football team held its first preseason practice Friday, with a push on the personnel front, a nod — but not a ranking — in the first major national poll of the preseason and word that two Jayhawks made two more ubiquitous watch lists.
"For the first day I liked what I saw. The things that are important on the first day are hustling, enthusiasm and learning. All those things were there. We have a long, long way to go but it was a good first step today," coach Mark Mangino said in a statement.
Despite some previous uncertainty about his eligibility, KU junior receiver Dezmon Briscoe took part in the team's first practice, team officials said.
Briscoe, an All-Big 12 second-team receiver as a sophomore last season, missed most of spring practice — including the team's Spring Game in April — due to suspension as a result of academic issues.
"I anticipate that he will (be there when practice starts in August)," Mangino said during last month's Big 12 Media Days in Irving, Texas. "He has work to do (academically), and he's not the only one. There's several players that have work to do. I tell him, 'It's pretty simple: You get your work done, you're with us in August. You don't get your work done, you're not.' And we don't cry about it, and we don't feel bad about it — we go to the next player.
"But I don't anticipate any issues."
Briscoe, who set school records last season for receiving yards (1,407) and touchdowns (15), was recently selected by media as a preseason All-Big 12 selection.
Meanwhile, Ben Lueken, a sophomore who played in nine games for the Jayhawks as a true freshman last season, has left the program.
According to a source close to the program, Lueken, an offensive lineman, has left the university to "pursue other opportunities."
Lueken was injured in April during an early-morning incident outside Jayhawker Towers, when he was either struck by or fell from the hood of a vehicle. He was later hospitalized, while Kansas running back Jocques Crawford, who left the program last month, was questioned immediately following the incident.
During last month's Big 12 Media Days in Irving, Texas, Mangino said Lueken's status was up in the air, adding that he'd been in discussions with Lueken, the team's medical staff and the player's family.
"Anytime you have a situation where players are not conducting themselves the way they should, it's disappointing," the coach said. "But Ben, his situation is such where he still needs attention (physically). His health … we've got to confer with our doctors and his family, and we'll just see. We'll do what's best for Ben."
As a true freshman last season, Lueken played in nine of the team's 13 games and saw significant action as a backup on the offensive line, although he was not listed on the team's preseason two-deep depth chart.
USA Today released its first national poll of the preseason, and the Jayhawks weren't among the top 25.
KU, which went 8-5 last year, was the first listed in "others receiving votes" category. KU checked in at 26th with 138 points. Oregon State was ranked 25th with 165 points.
Defending national champion Florida topped the poll. The Gators received 53 of 59 first-place votes.
Texas was second, followed by Oklahoma, Southern California, Alabama, Ohio State, Virginia Tech, Penn State, LSU and Mississippi. Texas had four first-place votes, and Oklahoma and Southern California each had one.
The Associated Press preseason Top 25 will be released Saturday, Aug. 22.
Also Friday, it was announced two Jayhawks were named to preseason watch lists.
Quarterback Todd Reesing had his name added to another national such list when he was tapped to the 2009 Walter Camp Player of the Year Watch List.
Reesing has already has been placed on watch lists for the Davey O'Brien (nation's top quarterback) and Johnny Unitas (top senior quarterback) awards this preseason.
The Walter Camp award recognizes the best college football player in the nation and is the fourth-oldest individual college football honor. Reesing is one of 30 players on the list and one of 10 quarterbacks.
Safety Darrell Stuckey has been named as one of 31 players on the Jim Thorpe Award Watch List. The award is given annually to the nation's top defensive back.
Stuckey, a 6-1, 205-pound, senior from Kansas City, Kan. proved to be one of the nation's top safeties a year ago as he recorded 98 tackles and five interceptions.
His 98 tackles were second on the team and were the most by a Jayhawk defensive back since 2003. He also broke up seven passes to rank second on the team, while his five interceptions topped last year's squad.
More like this story on KUsports.com