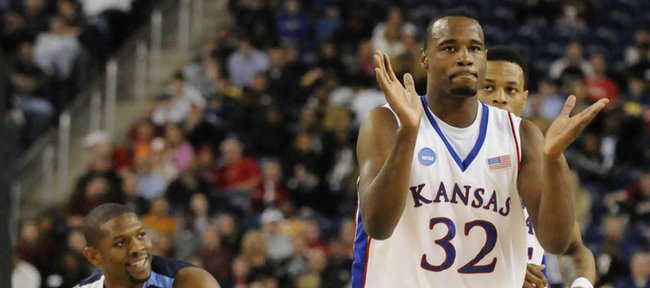 As an eighth grader, Darnell Jackson wasted a lot of time loitering in a park adjacent to the Boys and Girls Club of Oklahoma City.
One day, the self-proclaimed troublemaker decided to swing open the doors of the club's gymnasium.
His life would never be the same.
"Guys were in there playing basketball. Cory Colbert (of B&G; club) said, 'Do you play?' I said, 'No, I never have,'" said former Kansas University power forward Jackson, now a second-year member of the NBA's Cleveland Cavaliers.
"Cory said, 'Come here every day. Play basketball. Trust me. You will enjoy it and you will make something out of your life.'''
Jackson, who had no father figure growing up, built positive relationships with Colbert and other individuals — young and old — at the Boys and Girls Club of OKC.
"I went there every day through high school. I still go there when I'm back. Without the Boys and Girls Club, I don't know where I'd be. I don't think I'd be in the NBA now," said Jackson, who is determined to give back to the organization that he said turned his life around.
Jackson — he'll hold a pizza party at the club in OKC later this summer — on Saturday will sign autographs from 9 a.m. until noon at the Dillons on 6th and Wakarusa. A $5 donation is suggested for the autographs with all proceeds to benefit Boys and Girls Club. He'll also visit with spectators 15 minutes before the start of Saturday's Boys and Girls Club Red Dog Run, set for 8 a.m. at the Kansas River levee behind Johnny's Tavern.
"Lawrence ... it's my home," said Jackson, who first visited the Boys and Girls Club of Lawrence his junior year at KU, taking a tour with Cathy Theisen, the club's current board president.
"I look forward to seeing all the kids from the club. I'm excited. A lot of kids get to see me, Mario (Chalmers) and my former teammates on TV, but never get to meet us in person. You never know. By talking to the kids, you may change one of their lives forever."
The 23-year-old Jackson grew emotional when asked to pinpoint the best advice given to him at the OKC Boys and Girls Club.
"To never quit," Jackson said. "Sometimes kids are told by people close to them, 'You will not make anything out of your life.' Kids start to believe that. Don't believe anybody else's words. Believe you can do anything. Believe in yourself."
A lightly recruited player in high school, Jackson blossomed at KU. He was an integral factor in the Jayhawks winning the 2008 NCAA title.
The second-round NBA draft pick averaged 1.9 points, 1.7 rebounds and 8.4 minutes a game in 51 games (two starts) his rookie season for a talented Cavaliers team that reached the Eastern Conference finals.
"I was on the No. 1 team in the NBA my first year. We were that close to winning it all," said the 6-foot-9, 253-pound Jackson.
"I'm excited about next season. We've added 'Big Diesel,''' he added of 7-1, 325-pound Shaquille O'Neal.
"Shaq is one of the best big men on the block ever. Just how old he is ... the presence he has ... I'll learn a lot from him. You have to double team him at all times. He should help everybody on our team."
That includes phenom LeBron James, who is in the final year of his contract with the Cavs.
"I'm not worried about it. I don't think the coaches are worried about it," Jackson said of James perhaps leaving after this season. "He's from Cleveland and likes it there. It'll come down to being his choice. We can't read his mind."
Jackson hopes to earn some significant minutes next to LeBron and Shaq this season. He played for the Cavs' summer league team and most recently has been in Las Vegas a week working out and playing pick-up basketball with other NBA big men.
"I keep pushing myself," Jackson said. "It's something you have to have inside you."
Something instilled in him by those at the Boys and Girls Clubs of Oklahoma and Lawrence.
More like this story on KUsports.com