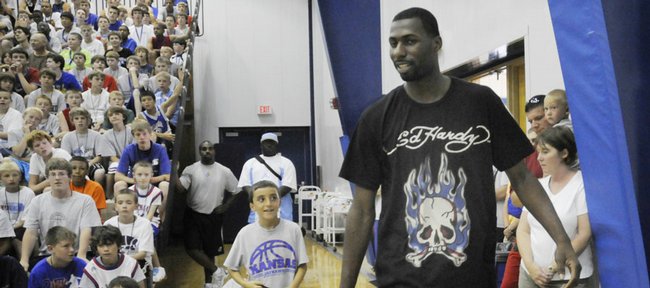 Former Kansas University basketball players Mario Chalmers and Julian Wright will be playing an NBA exhibition game in Kansas City, Mo., this fall.
Chalmers' Miami Heat will meet Wright's New Orleans Hornets on Thursday, Oct. 15, at the Sprint Center, the Heat announced Thursday.
Miami, which also has former Kansas State forward Michael Beasley on the roster, will play the Oklahoma City Thunder on Oct. 14 at the BOK Center in Tulsa, Okla.
KU senior associate athletic director Larry Keating said the Heat did not contact KU about perhaps holding the game in Allen Fieldhouse.
KU's Late Night in the Phog is Oct. 16.
"I would suspect Miami was thinking that with somebody from Kansas and somebody from Kansas State, they'd be better off playing it in the Sprint Center," Keating said. "The Sprint Center probably went out looking for the game with a lot of dates available."
Keating said KU, which hosted an exhibition between the Chicago Bulls and Seattle SuperSonics in 2006, does not contact NBA franchises about potential exhibition matchups in Allen.
"The only time we did it was when Chicago approached us," Keating said. "It's hard to do. It's always a preseason game and comes right when we are getting started. You've got to lock up the facility two days to get it done. It takes your teams out of the facility. We always listen, especially if it's our former players, but not something we seek out."
Last October, the NBA's Portland Trailblazers played the Atlanta Hawks in the Sprint Center before an announced crowd of 12,000 in the 18,000-seat facility. The Los Angeles Kings will meet the New York Islanders in an NHL preseason game on Sept. 22 at Sprint Center.
l Stewart headed to Finland: Former Kansas University basketball guard Rodrick Stewart has signed a one-year contract to play basketball in Finland during the 2009-10 season.
Stewart's dad, Bull Stewart, said Thursday that Rodrick will leave the U.S. on Aug. 17. His son will report to the training camp of pro team FoKoPo, which is located in Forssa, Finland.
"The owner called. He was really excited. He said Rodrick's going to be their starting point guard. He'll be a 6-foot-5 point guard," Bull Stewart said of Rodrick, who shattered his kneecap while attempting a dunk at a practice session at the 2008 Final Four in San Antonio.
"He started playing again four months ago. He's 100 percent healthy and in good shape at 205 pounds. He's in good enough shape to play above the rim," Bull Stewart added.
Stewart said his son, who averaged 2.8 points and 2.2 rebounds a game his senior year at KU, would like to play for an NBA summer-league team in 2010 and perhaps land an invitation to a team's veterans camp.
"He wants to prove he can be a good pro ballplayer," Bull Stewart said.
Stewart's twin brother, Lodrick, who played in Germany last year, likely will play in Greece this season, Bull said. Lodrick played his college ball at Southern California, where Rodrick started his career before transferring to KU. Both were prep standouts in Seattle.
More like this story on KUsports.com