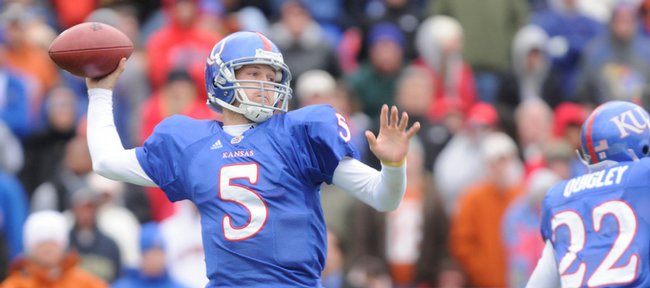 So here's the thing about Kansas University quarterback Todd Reesing: The Jayhawks never really have had anyone like him.
This is a guy who finished the 2008 season ranked in the top 10 nationally in passing yards, passing yards per game, total offense and completions, who has helped lead Kansas to 20 victories in the past two seasons, to the program's first BCS bowl and to its first Big 12 North title — which it shared with Missouri in '07.
Which raises the question: With his senior season just weeks away, would coach Mark Mangino and his Kansas program ever consider a "Reesing for Heisman" campaign?
P.R.-ing players
"No, I don't think that's what we do here."
That's Jake Sharp, the Jayhawks' senior running back. He has been at Kansas for four years. Played with some fine athletes. Future NFL Draft picks, in fact. And nothing in his past experiences seems to make him believe that something like this would occur.
"I think, basically, our play on the field is what's going to put you in a position like that," he says. "We're just not the kind of program that's going to go out there P.R.-ing guys."
Recently, however, there have been a number of college football programs who seem to have no problem at all "P.R.-ing" their guys.
The present-day examples of processed Heisman hype are numerous and, in many cases, well documented. In 2001, for instance, the University of Oregon famously paid a quarter of a million dollars to put a 100-foot billboard of quarterback Joey Harrington in New York City, while Texas Tech last season earned national recognition for its campaign "Pass or Catch 2008," which touted receiver Michael Crabtree and quarterback Graham Harrell as two of the country's best college football players.
Entering the 2009 season, meanwhile, Tennessee has created a campaign that includes a sophisticated Web site dedicated to getting the word out on junior safety Eric Berry, as well as the use of multiple electronic billboards and an inflatable jersey that will stand outside the team's stadium on game days. Clemson, meanwhile, plans to send out 6-foot posters of star running back C.J. Spiller.
If history is any indication, more schools will follow.
Are campaigns effective?
A "Reesing for Heisman" campaign? Nah, says Angus Quigley.
Like Sharp, Quigley is a longtime veteran of the Kansas locker room. He knows its ins and outs. He knows pretty much what to expect and when to expect it.
What he does not expect is that you'll see any kind of individual promotion anytime soon.
"People know who Kerry (Meier) is, people know who Todd is, who (Darrell) Stuckey is," Quigley says. "They know who they are. You don't need a parade or a marching band with you sitting on the back of a Mustang or something, driving down Mass. (Street). If you're good, you're going to get the Heisman votes. That's the way I see it."
He has a point — at least in the eyes of Oklahoma senior associate athletic director Kenny Mossman.
Mossman points out that since he arrived at OU in 2001, the Sooners have had two Heisman winners and five finalists without ever carrying out a true player campaign.
What's more, he says, some trustworthy data indicate that flashy campaigns often fall upon deaf ears.
A few years back, Mossman had a graduate assistant working in his office who was in need of a thesis project. Mossman, long intrigued by the phenomenon of the Heisman campaign, suggested the student contact national media members in an attempt to gauge their effectiveness.
"The information he gathered indicated what I always kind of thought," said Mossman, "which is that, yeah, they like them, they think they're cute and everything, but it really didn't have any bearing on how their vote was cast."
Of the past 10 Heisman winners — including Tim Tebow in '07 and Sam Bradford in '08 — none was the beneficiary of a particularly stout Heisman campaign, and there is some belief that the pressure of being touted as college football's finest early on can hinder a player's performance throughout the year.
Last season, the Missouri media-relations department sent out 2,500 View-Masters, which featured images of senior quarterback Chase Daniel.
The result? Daniel went from being a Heisman finalist and Big 12 offensive player of the year as a junior to not even in the discussion by the second half of his senior season, as Missouri stumbled to a 10-4 record and out of the running for a national championship.
"I think you'd be too busy thinking about how I have to go out and throw for 400 yards because if I don't, fans are going to be commenting on the Web sites," Quigley says. "No, you just need to go out and play. When you're underrated, which they usually do to us here at KU ... you've just got to go out and play. No pressure on you. Just go out and win."
Faith in voters
Punter Alonso Rojas can't really see it happening, but he hasn't been around that long, he says, and if Mangino can help his players in any way, he tends to do it.
Brad Thorson is also new, and he says give it a few games, and if the stats are there, who knows?
Finally, you get the chance to ask Mangino himself.
Except, by now, you're convinced you already know the answer. But you ask the question, anyway.
And this is what Mangino says: "You've got to go out and play well and have a great start to your season and prove that you belong in that group. And if we felt that (was the case), we would."
Naturally, he attaches some stipulations to this statement.
First off, Reesing (or whoever else might be worthy) would have to earn the campaign by putting up the kind of early-season numbers worthy of a Heisman candidate.
Second, it would be a simple ordeal. No parades or skyscraper-sized billboards in the middle of Manhattan.
Most likely, he tells you, it would involve mailing letters to voters informing them of Reesing's qualifications.
But, no, he says, he would not necessarily be against it.
Of course, a minute later, he admits that — despite his willingness to call attention a player he felt deserved special consideration — he's pretty sure it wouldn't make much of a difference in the end.
"I have faith in the voters," Mangino said. "People that are Heisman voters, I don't think they're won over by billboards or advertisements. They study the facts. They've been entrusted to have that vote, and they look beyond all that Madison Avenue stuff."
More like this story on KUsports.com