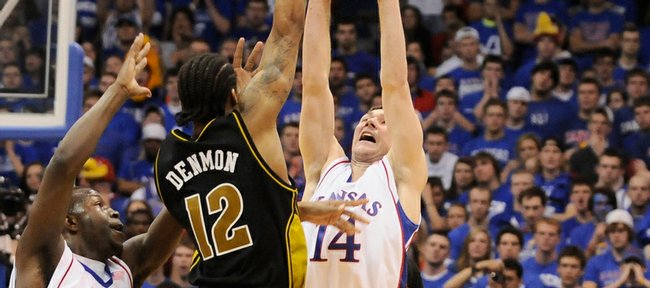 Nobody is ever going to call Tyrel Reed an 184-pound weakling.
"I think it's incredible a men's basketball player who weighs 184 pounds is able to hang-clean 308 pounds. I think that's a pretty impressive feat," said KU hoops strength coach Andrea Hudy.
"It happens in football all the time (but not basketball)," she added of somebody that size pumping so many pounds in the solid barbell exercise.
Reed at times stole the show during the Jayhawks' two, four-week sessions of voluntary strength and conditioning workouts.
His hang clean was the best on the team, ahead of the Morris twins, Cole Aldrich, Brady Morningstar, Travis Releford and Conner Teahan, who came close to 300 pounds.
Reed also completed a whopping 40 pullups on the bar, ahead of junior guard Teahan, a former high school football standout who had over 30.
"I don't have to say much to Tyrel. He's self-motivated," said Hudy, KU's sixth-year assistant athletic director/sports performance.
Hudy reports that the entire roster of Jayhawks had productive summers working out.
"We had a pretty consistent, successful summer in terms of the weight guys were throwing around, squatting and benching. Our consistency in the weight room was really an advantage to where we are trying to go," Hudy said.
Freshman forward Thomas Robinson, who was listed at 6-foot-8, 220 pounds upon his early-June arrival from his hometown of Washington, D.C., now weighs 233.
"If you ask Thomas, he's a horse. He's a self-proclaimed horse," Hudy said, laughing. "He is very gifted. His best advantage is his work ethic. His physique is great. He has long arms. He looks great.
"It's impressive for somebody to put on 13 pounds in eight weeks when he's continuing to run, play (pickup games) and do conditioning work as well. He's competitive, and it shows."
Freshman transfer Jeff Withey, who likely will be listed as 7-foot on KU's 2009-10 roster, is about 228 pounds, up from 212 when he first arrived at KU last January.
Withey, who started his career at the University of Arizona, has loaded up on Gatorade/nutritional shakes this summer, as have teammates Aldrich, Morningstar, Releford, Robinson, Tyshawn Taylor, Elijah Johnson and the Morris twins.
"He has to eat all the time," Hudy said of Withey. "I'd meet him for breakfast at 7 or 9 a.m. before class at the Burge (Union). He'd eat either an omelet or a burrito omelet. We'd follow up on what he was having for lunch and dinner. He'd get at least two shakes a day. He does what we ask him to do."
The Morris twins — 6-8 Marcus and 6-9 Markieff — have been "two of our most consistent guys," Hudy said.
Marcus is about 232 pounds, up from a low of 210 last season and Markieff at 242, up from his low of 215.
"I think the twins went through the season and realized how much stronger they could be and needed to be in the Big 12," Hudy said. "They took it seriously as a goal to put on weight and muscle, to get stronger and become more powerful. There was a point last season we were hitting critical values in a negative area. The season is long. It's hard. There's a lot of energy expenditure. They realize eating is a primary goal for them. Since they've done that, they've seen positive results."
KU sophomore Releford also has had a significant weight gain. The 6-foot-5 Kansas Citian is at 210 pounds, up from 192.
"He realized he needed to put on some weight as well. The learning curve from their freshman to sophomore year is one of the biggest," Hudy said.
Summarizing the summer, Hudy said: "We are pretty athletic this year. Their work ethic doesn't amaze me. When they are at Kansas, there is an expectation. When they want to come to Kansas, we need them to play like Kansas players do. They take pride in their work. They want to get better."
More like this story on KUsports.com