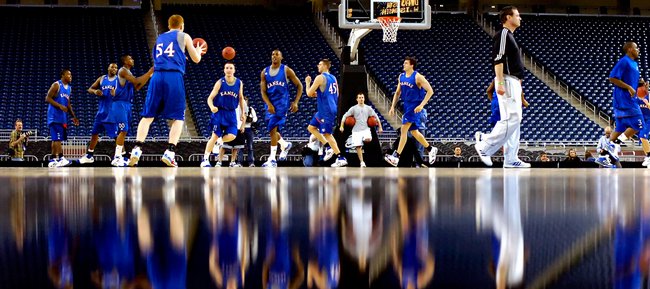 Kansas University's 2009-10 men's basketball schedule has been finalized following Saturday's release of the Basketball Hall of Fame Showcase matchups.
KU, as previously reported, will meet Memphis at 9 p.m. Nov. 17 in one of the two featured games of the Showcase at Scottrade Center in St. Louis. Arkansas will meet Louisville at 6:30 p.m. in the first game of the one-day Showcase doubleheader.
The Jayhawks will complete the Showcase with three games in Allen Fieldhouse. KU will meet Central Arkansas on Nov. 19, Oakland on Nov. 25 and Tennessee Tech on Nov. 27. All three games start at 7 p.m., and will be shown on Jayhawk TV and ESPN Full Court.
Other KU schedule confirmations on Saturday: The Dec. 9 game against Radford will be televised at 7 p.m. on ESPNU. ESPNU will also televise the Belmont at Kansas game at 8 p.m. on Dec. 29. The Cornell at Kansas game on Jan. 5 will be televised at 7 p.m. on Jayhawk TV, making eight total appearances on Jayhawk TV for the upcoming season.
ESPN changed the tip time for the Jan. 23 Kansas at Iowa State conference matchup to 1 p.m. That contest was originally slated for a 3 p.m. start. The Jan. 2 Kansas at Temple game on ESPN2 is still subject to either a 2:30 p.m. or 4:30 p.m. start.