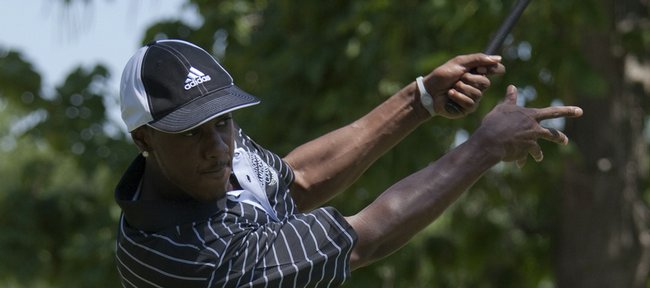 The first tee-shot of the inaugural National Championship Classic sailed far right and toward the trees, a slice if ever there was one, but in the eyes of the man responsible, things could have been much worse.
"(I was) just hoping I wouldn't miss and have everybody laugh at me," said Mario Chalmers, the former Kansas University basketball standout and tournament host.
Having recently finished his rookie season with the NBA's Miami Heat, Chalmers underwent a little rest and relaxation Friday as he hit the links at Alvamar Public Golf Course in the first of what he hopes will become an annual event.
"A lot of business deals are made on the golf course — a lot of people have told me that," said Chalmers, explaining the charity's setting. "I want to get my foundation started, get it off to a good start. What better way to start it off than a golf tournament where everybody can come out and participate?"
Well, everybody with $250 to spare, anyway.
That was the cost for the tournament and ensuing dinner banquet, the proceeds of which went to the Mario V. Chalmers Foundation, which is said to "create and support community based programs that encourage the positive development of youth through sports and education and fund initiatives for breast cancer research and treatment."
Originally slated to include the bulk of KU's 2008 national championship roster, participation dwindled a bit in the days leading up to the event. In addition to the absences of Brandon Rush and Sasha Kaun, who are overseas this week, both Darrell Arthur and Darnell Jackson were unable to attend the event due to basketball-related obligations.
Those who were able to attend, however, seemed to enjoy themselves.
Kansas athletic director Lew Perkins puffed a cigar. Former guard Russell Robinson, who was playing golf for just the second time, contemplated the possibility of a few lessons. And KU assistant coach Danny Manning showed enough course wherewithal to impress Alvamar Country Club head pro Randy Towner.
"Not bad," said Towner, after watching Manning tee off on the 18th hole. "A lot of times, big guys have loose, floppy swings. But his is pretty good."
For his part, Chalmers admitted his golf game could use some work ("I've been getting a couple lessons, keep practicing," he said), although there was one aspect of it that he was confident he had down pat.
"Mario said he's trying to get set up with some clubs and some shoes," said Alvamar Golf Course head pro David Dunn. "But he thought he'd done a pretty good job dressing the part."
More like this story on KUsports.com