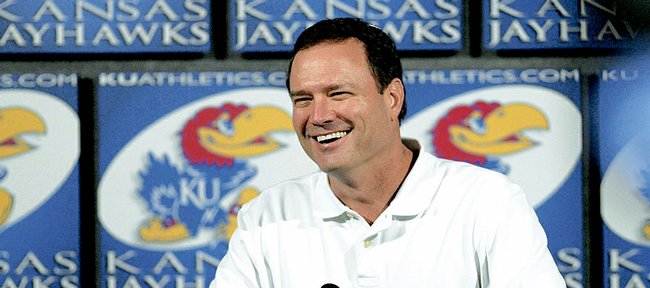 Oklahoma City — Kansas University basketball coach Bill Self, who starred at Edmond High School, went on to play lead guard at Oklahoma State University and also served as head coach at state schools Oral Roberts and Tulsa, returned to his home state Tuesday to receive the Abe Lemons/Paul Hansen Award for Sports Excellence.
Self was honored not only for his work in the Sooner State, but for leading Kansas University to the 2008 NCAA title and an overachieving 2008-09 KU team to a Big 12 title and berth in the Sweet 16.
"It's an award that obviously I'm not deserving of having, but anything that has coach Lemons' and coach Hansen's name on it, I think is a pretty cool deal," Self said. "I had a chance to know both men and played for coach Hansen all four years at Oklahoma State, so this is really a treat for me."
Self remembered Hansen (107-89 at OSU from 1979-86) as having class and dignity, and he said his former mentor taught him that "you can be a good guy and still be very competitive." Lemons was a legendary coach at Oklahoma City University.
Self on Tuesday was asked about high expectations for next season. KU likely will be favored to win the national title following the signing of 6-foot-6 Putnam City (Okla.) High sensation Xavier Henry.
"If that's true, then let's don't even play. Let's just go ahead and do it," Self said. "I don't think that's the case at all. We should be pretty good based on who we return, and we got a break with our two best players (Cole Aldrich, Sherron Collins) not declaring and returning to school.
"I think we do have a chance to be one of the elite teams, but there's no games played in April or May. We've got a long way to go and a lot of work to do to put ourselves in a position to hopefully be one of the elite teams.
"If you would ask would we rather be the ones that's the hunter or the ones that's the hunted, we'd say every time, 'Hey, let's be the hunted,''' Self added.
More like this story on KUsports.com