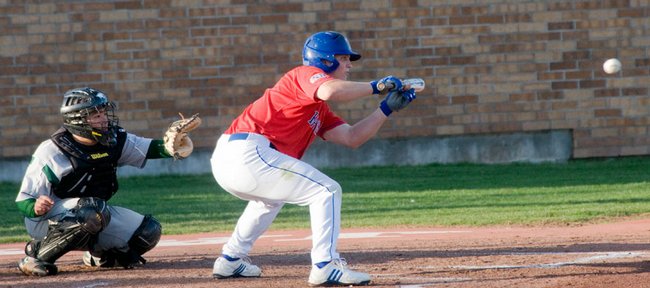 If pitchers Shaeffer Hall, T.J. Walz and Lee Ridenhour are the Kansas University baseball team's Weekend Warriors, then consider junior right-hander Brett Bollman a Midweek Mercenary.
As he has been for much of the season, Bollman was dominant in helping the Jayhawks breeze through a rather undramatic afternoon Tuesday, as the team disposed of visiting Chicago State, 11-5 and 9-1, in a double-header at Hoglund Ballpark.
The Broken Arrow, Okla., native and Arkansas transfer earned his team-best fifth victory during the day's second game, giving up no runs on four hits and striking out eight to improve to 5-0 and drop his earned-run average to 1.70.
"We've put him in that midweek role, and he's just relished it," said Kansas coach Ritch Price, whose team moved to 31-15 overall. "… He's given us a quality start every time he's gone out, and, obviously, (he's) the reason our midweek series record is so good."
Since it became clear that the Jayhawks had a chance to make a run at an NCAA Tournament berth this season— they moved into the Top 25 earlier this month for the first time since 2006 — no small amount of focus has been centered on winning midweek series, since picking up victories against nonconference foes can do wonders for padding a postseason resume.
"We've got to win midweek games," Bollman said. "If you don't win midweek games, you're not going to be expected to go to the postseason."
Originally scheduled for today until unfriendly weather forecasts led KU officials to move it up a day, the second game of Tuesday's double-header allowed the Jayhawks to conclude a five-game home stretch in style.
Kansas jumped ahead 2-0 in the bottom of the second inning when shortstop David Narodowski singled to score Casey Lytle and Tony Thompson. The following inning, with the Jayhawks having already built their lead to 4-0, Narodowski again singled to score Jimmy Waters and push KU's lead to five.
Narodowski finished the game with four RBIs — a welcome development for the 5-foot-9 leadoff man, but not one he expects to become commonplace throughout the rest of the season.
"Having Buck (Afenir) and Tony (Thompson) and Robby (Price) behind me, that's not something that happens very often," he said.
The Jayhawks begin a three-game road series against No. 9 Oklahoma on Friday and won't return home until May 16, when they'll play host to rival Kansas State in a two-game series that will mark the conclusion of the team's regular season.
Before then, however, there are meetings with the Sooners, Wichita State and Missouri to deal with.
"We're going on the road for eight in a row, and we've got our hands full," Ritch Price said. "We have a chance to continue to build our resume, and if we win series, we won't even be on the bubble, we'll be rock-solid."
In Game 1 on Tuesday, the Jayhawks fell behind 4-0 before tying the game in the bottom of the third inning and then slowly building their lead the rest of the way. Brian Heere continued his string of strong play this season, going 2-for-5 with two RBIs and two runs, while Narodowski was 3-for-6 with two runs.
More like this story on KUsports.com