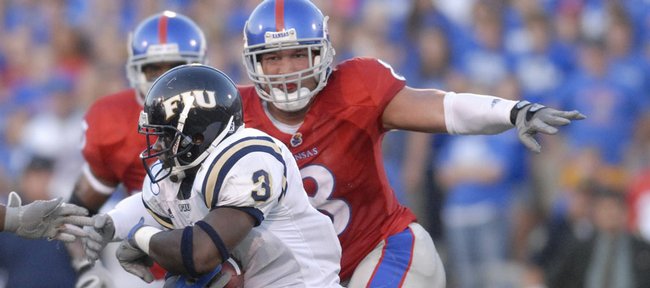 Joe Mortensen, a former first-team all-Big 12 linebacker for the Kansas University football team, is scheduled to attend a three-day mini-camp with the Buffalo Bills in New York this weekend, he said Tuesday.
"(Former KU tight end) Derek Fine is up there now, and he put in a good word for me," said Mortensen, when reached by phone. "It runs Friday and I'll be back Sunday, so I'm looking forward to it. I'm excited."
Despite reports that some NFL teams evaluated him as a fullback during the Jayhawks' Pro Day last month, Mortensen said the Bills are considering him at the linebacker position, where he starred during a five-year career at Kansas and led the team in tackles during the Jayhawks' Orange Bowl-championship 2007 season.
At the same time, the Concord, Calif.-native said he's open to the idea of playing fullback, a position he occasionally played in high school.
"I love playing linebacker, that's what I've always played," said Mortensen, who despite playing through various injuries in 2008, managed 90 tackles (eight for loss). "But either way, I get to hit people."
Mortensen said Tuesday that he's been contacted by a handful of other NFL teams, including the Carolina Panthers and Denver Broncos. Following his trip to Buffalo, he said, he'll speak with his agent about his available options.
Two of his fellow linebackers, meanwhile, have already signed free agent deals — James Holt with the San Diego Chargers and Mike Rivera with the Chicago Bears — and Mortensen hopes to join them on an NFL roster sooner rather than later.
"I'm very happy for both of them," he said. "Chicago's a great place, San Diego's a great place. Now, I'm kind of getting antsy. I'm ready to go."
More like this story on KUsports.com