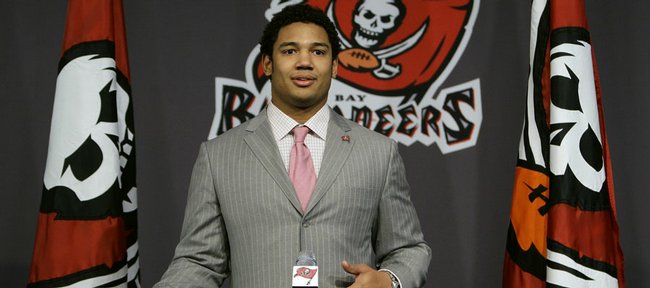 Many years ago, when I was writing a feature story on a Kansas University football player, I went to his position coach for an assessment.
After chatting for a minute or so, I asked the KU aide what he thought of the player.
"He looks good in a suit," the coach replied.
In other words, the guy may have looked like a football player, but he wasn't. Through the years, I've seen countless players who fit into that false-front category, and I'm sure you have, too.
Along the same lines, if the player who looks good in a suit plays a skill position, there's a very good chance the coach who used him will be fired.
And that brings me to Josh Freeman, the former Kansas State quarterback who went to the Tampa Bay Bucs in the first round of the NFL Draft.
I'm not saying Ron Prince was fired because of Freeman. That may be like blaming the swine flu on Porky Pig, yet Freeman never did quite live up to his billing.
Last season was the Year of the Quarterback in the Big 12 Conference. The league boasted at least seven quality QBs, and none looked better in a suit than Freeman, a prototypical pro at 6-foot-6 and 250 pounds.
And yet of the conference's Big Seven QBs, Freeman ranked lowest on the statistical charts. He threw fewer TD passes and had a lower completion ratio than the other six.
Then again, it could be argued Freeman didn't have the receivers the other six had. What if he had had Missouri's Jeremy Maclin and Chase Coffman? Or Texas Tech's Michael Crabtree? Or KU's Dezmon Briscoe?
At the same time, you could argue that Freeman's league ranking was skewed by the fact the Big 12 had so many talented QBs. After all, one of them — Oklahoma's Sam Bradford — won the Heisman Trophy.
And yet three other QBs who ranked higher than Freeman and were eligible for the NFL Draft — MU's Chase Daniel, Texas Tech's Graham Harrell and Nebraska's Joe Ganz — were ignored. The other three — Bradford, KU's Todd Reesing and Texas' Colt McCoy — will be back this fall.
When it comes to physical skills, neither Ganz nor Daniel, who signed free-agent deals with the Washington Redskins, can touch Freeman. Both are about six inches shorter and lack Freeman's arm strength. They'll be lucky if they're holding a clipboard on the Redskins' sideline this fall.
Ganz and Daniel are a lot like Reesing, also considered an NFL non-prospect. Their tool boxes may not be full, but there's more to carpentry than hammers and nails. You can't hack it without the knack.
Does Freeman have the knack? Does he possess the intangibles? Does he have the gut instincts to play football's toughest position?
Or as one NFL quarterbacks coach said: "(Freeman) looks like what a first-round quarterback is supposed to look like. He has the arm and the size, but there's something missing."
First-year Tampa Bay coach Raheem Morris was an aide at K-State when Freeman was recruited, and Morris obviously views Freeman as an immediate impact player.
But that's what Prince thought about Freeman, and the former KSU head coach is now the special-teams coach at Virginia.
More like this story on KUsports.com