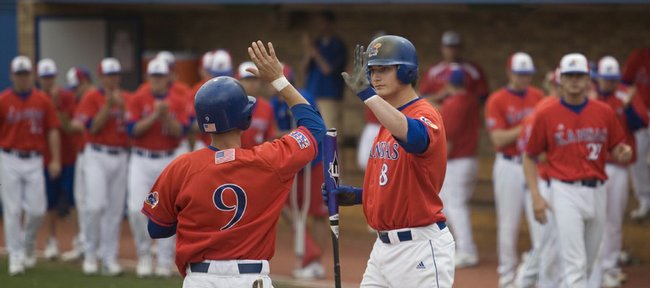 Kansas University right fielder Brian Heere has no idea what he was doing the last time the Jayhawks won a baseball series against Nebraska.
But the KU sophomore and Lawrence High product likely will remember ending the streak.
Thanks to outstanding pitching and an offensive lift from Heere, who was 2-for-4 with three RBIs, a home run and three runs scored in Sunday's opener, the Jayhawks defeated the Cornhuskers twice on Sunday at Hoglund Ballpark — 8-2 and 9-4 — to pick up their first series victory against NU since 1997.
"We haven't been swept by them since I've been here, but that's the first time we've won a series," KU coach Ritch Price said. "It's a really nice feeling to get that monkey off our back."
The last time the Jayhawks defeated the Huskers in a series, "South Park" had just debuted on Comedy Central and Bill Clinton was beginning his second term as President.
Heere, who was 9 when KU swept three games from NU in '97, only remembers attending St. John Catholic School at the time — and playing baseball.
"I have no idea what I was doing then," Heere said. "Probably playing little league somewhere."
There was nothing little about what Heere and the Jayhawks did Sunday. After playing arguably their worst game of the season in an 11-4 loss to Nebraska on Friday night, the Jayhawks bounced back with 18 innings of solid baseball Sunday.
In Game 1, which was moved to Sunday because of bad weather Saturday night, sophomore pitcher T.J. Walz (5-1) allowed five hits over 72⁄3 innings to lead the Jayhawks to an 8-2 victory. In that one, Heere launched a two-run home run in the first inning that set the tone for the rest of the day.
"That's huge," said Walz, who tied a career high with 10 strikeouts. "It's so much better to go out and pitch with a lead. Then you don't have to be as perfect."
KU plated 17 runs on 21 hits in the doubleheader, and the production came from a variety of places.
Catcher Buck Afenir was 3-for-4 with three RBIs in the opener. Casey Lytle was 2-for-3 with an RBI, and freshman James Stanfield, who filled in for Robby Price at second base after Price was hit in the head by a pitch in the third inning, also recorded an RBI.
Stanfield delivered again in Game 2, providing a crucial, two-out, two-RBI single in the bottom of the seventh that put the Jayhawks on top for good.
"That was big-time, wasn't it?" Ritch Price said. "For that kid to get that clutch hit with two outs to put us ahead, that was a tremendous at-bat by a freshman."
Six Jayhawks recorded RBIs in Game 2, with Zac Elgie finishing 3-for-4 with two RBIs and David Narodowski picking up two hits and an RBI, as well.
Freshman Lee Ridenhour pitched into the seventh inning of Game 2 before exiting, allowing Brett Bochy (4-0), Colton Murray, Travis Blankenship and Paul Smyth to slam the door.
The Jayhawks improved to 29-15 overall and 10-8 in Big 12 play. Nebraska fell to 19-23 and 5-16.
"The difference between 9-9 and 10-8 is off the charts," Ritch Price said.
More like this story on KUsports.com