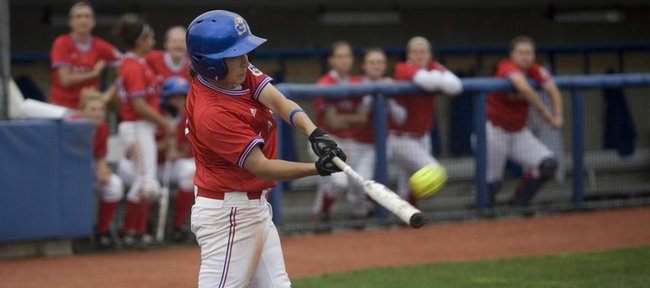 Nowhere to be found Sunday was an unsmiling Kansas University softball player.
"I'm so happy the way we played on Senior Weekend," KU junior Amanda Jobe said. "I'm so happy for the seniors."
Kansas split with Baylor at Arrocha Ballpark, bowing 11-8 on Sunday morning in the completion of a suspended game after posting a 7-3 victory Saturday.
Normally, scoring 15 runs would be good enough for a sweep, but the Jayhawks weren't complaining. They knew they had played close or near to their level of competence.
"Hopefully, we can carry this into the next two weeks," said Jobe, who belted one of the Jayhawks' four home runs in Sunday's game.
Also homering were Liz Kocon, Allie Clark and Val Chapple, one of the five seniors honored after Sunday's game.
"It could have been better," Chapple said of the season. "Sometimes it takes longer to get out the kinks. I think we set the tone (Saturday). I'm proud of the team."
So, too, was coach Tracy Bunge.
"I couldn't be happier with the effort," said Bunge, who announced her retirement from coaching Friday. "And it wasn't just one kid. There was a lot of enthusiasm, a lot of heart."
Baylor bolted to a 7-1 lead with a four-run fifth inning, but the Jayhawks answered with a four-spot of their own in the bottom of the frame, thanks mainly to Chapple's three-run home run to deep left-center.
"When we were down 7-1, it looked bleak," Bunge said, "and they bounced right back. I loved the fight they had."
Then after Baylor tacked on another run in the top of the sixth to grab an 8-5 lead, KU responded with a two-run homer by Kocon to right-center in the bottom of the sixth.
But when Baylor plated three more runs in the seventh, KU's only answer was a solo homer by Clark to lead off the do-or-die half-inning.
All of KU's home runs were off Whitney Canion, a freshman left-hander who benefited from a 17-hit attack to post her 23rd victory. Baylor climbed to 36-18 overall and 11-6 in the league. KU is 18-28 and 5-8.
Kansas will travel to Wichita State for a doubleheader Tuesday, then play host to Texas A&M; in a twinbill Thursday to make up a pair of games weathered out in March.
The regular season will end next weekend with two games at Iowa State. The Big 12 tournament will begin the following Friday in Oklahoma City.
More like this story on KUsports.com