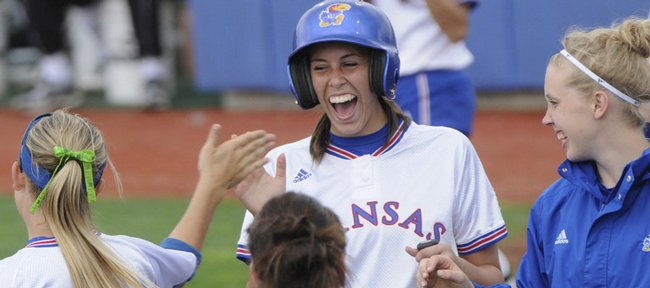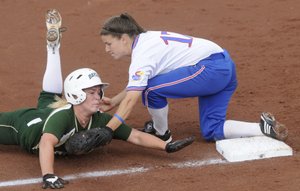 Who were those Kansas University softball players?
They weren't the Jayhawks who flat-lined against Drake the other night, that's for sure.
"They absolutely looked like a different group of kids," KU coach Tracy Bunge said following Saturday's 7-3 victory over Baylor at Arrocha Ballpark.
Kansas hit the Bears with a three-spot in the first, added a couple of more in the second and won for only the second time in the last six outings.
Designated player Allie Clark doubled in a run in the first, then clubbed a two-run homer over the right-centerfield fence in the fifth to pace the Jayhawks' nine-hit attack.
"We were so much more pumped," Clark said, referring to Thursday's 7-1 loss to Drake. "We were excited and having fun."
That excitement seemed to be carrying over into the second game of the twinbill as well. Baylor was nursing a 2-1 lead after three innings when the game was halted by threatening weather.
That delay drug on for nearly three hours before KU officials finally called it off just before 8 p.m.
"Basically, the weather is supposed to be pretty crappy (today)," Bunge said, "so we decided to wait it out as long as possible."
The incomplete game is scheduled to resume at 10 a.m. today with Baylor batting in the top of the fourth inning. Amanda Jobe accounted for KU's run with a blast over the scoreboard in left-centerfield to lead off the second inning.
Another reason for hanging on as long as possible was Senior Day. Five seniors were scheduled to be feted after the game and, if today's game can't be completed, Bunge said, "We'll probably do something private."
Saturday's about-face from Thursday's stinker came less than 24 hours after Bunge had told her players she was retiring from coaching at the end of the season.
Bunge declined to elaborate on her decision Saturday night, saying she would discuss it after today's game. At the same time, the players decided to wait to address the issue, too.
Clark, for instance, didn't mention Bunge when talking about the Jayhawks' upbeat outing against the Bears.
"We were just excited to play Baylor, and we were excited for the seniors," said Clark, a sophomore from Hesperia, Calif. "We wanted to start fresh and have a good end to the season."
Clark has been a pleasant surprise in a season with more disappointment than delight. Bunge plugged Clark into the clean-up slot and the 6-foot-0 Californian — the Jayhawks' tallest player — leads the team in home runs with seven and RBIs with 27.
"I'm having a blast," Clark said of her clean-up role. "Hopefully, I'll keep hitting and she'll leave me there."
Kansas improved to 5-8 in the Big 12 and 18-27 overall. Baylor is 10-6 in the league and 35-18 overall.
Notes: Assistant coach Buddy Foster, who joined Bunge's staff this year, has resigned. Christi Musser, Bunge's other aide, is expected to remain as a transition coach. … A team banquet to honor seniors Val George, Elle Pottorf, Dougie McCaulley, Val Chapple and Stevie Crisosto and their parents is scheduled for this afternoon. … Baylor lost outfielder Kayce Walker, its leading hitter (.413), to an ACL injury last Wednesday. …
More like this story on KUsports.com