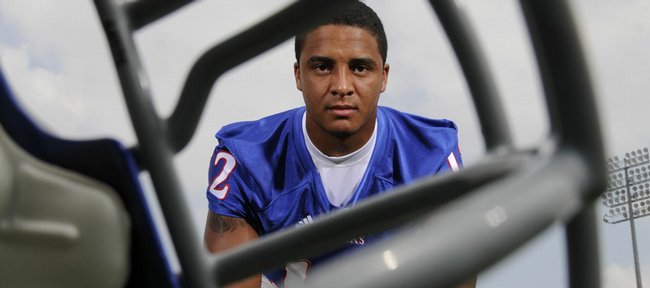 Indianapolis Colts draft decision maker Bill Polian, have I got a player for you.
His name is James Holt. As do you, his college coach, Mark Mangino, values speed and quickness and ability to play the game more than he values size.
Here's the thing, too, you don't want to wait until the draft is over to sign him because somebody might be smart enough to scoop him up in the draft.
In so many ways, Holt is the perfect Polian player, just the sort of weak-side linebacker the architect of the Buffalo Bills and then the Colts loves to have in for passing downs providing zone coverage and teeing off on the quarterback. He was measured by NFL scouts at 6-foot-2, 218 pounds, on the small side for a linebacker. His 4.64 speed is considered adequate for a weak-side linebacker. It's his play-making ability and heart that make Holt worth a draft pick.
No point in using a draft choice on him Saturday, but come the fifth or sixth round, the stage of the draft where Polian has been known to land undersized sleepers who know how to play the game, Holt fits.
Flash back six years. In the fifth round, Polian took a chance on Alabama A&M; defensive end Robert Mathis, who in his senior year had 20 sacks and 10 forced fumbles for the Division I-AA school. One of the smaller defensive ends in the NFL, the 6-2, 245-pound Mathis represented the AFC in this year's Pro Bowl.
One round later, Polian selected Cato June, a 6-0, 220-pound safety out of Michigan and converted him immediately to weak-side linebacker. June, who has put on just seven pounds since being drafted in 2003 and now is with the Houston Texans, also represented the Colts in the Pro Bowl.
Polian will take note of Holt's propensity for forcing fumbles. You're forcing fumbles, you're doing something right. You're getting to the ball and still under control enough to aim for the ball. Holt, whose dedication in the weight room consistently wowed teammates, developed into a monster on the field in his senior season. He had 10 sacks, ranked third in the NCAA with six forced fumbles and 11th with 19-1/2 tackles for losses.
Holt's a high-character guy, which also fits the profile of the Colts, the anti-Raiders. In the late rounds, Polian doesn't mess around with men who can embarrass the organization in headlines. If he's going to take a chance on a guy, it's going to be one who has first-round talent.
Don't be shocked if that at some point Sunday on this Web site you'll read the headline "Holt's a Colt."