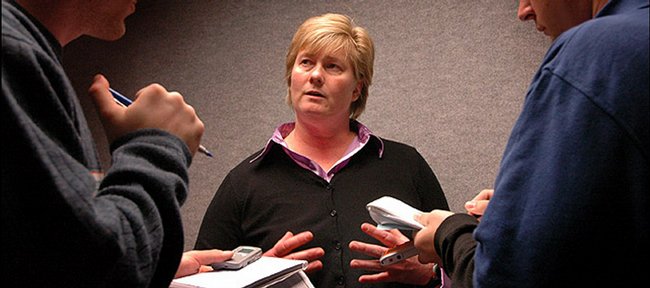 Tracy Bunge dropped a bombshell after Friday's practice.
Bunge told her Kansas University softball players she was retiring from coaching after 13 years in charge of KU's program.
Red eyes were evident among KU's players as they filed out of the locker room in the early evening at Parrott Complex.
Val George, one of five seniors on the roster, said she and her teammates needed time to digest Bunge's surprise announcement and preferred not to comment.
Bunge, who was first to leave the locker room, also declined comment, saying she would elaborate on her decision after today's doubleheader against Baylor.
In a statement released by the KU media-relations office, Bunge called her four years as a KU player — she was an All-American in 1986 — and 13 years as the Jayhawks' head coach a "wonderful experience."
Bunge didn't disclose any plans, saying only that it was "time for a change in my professional career, and I'm eager to take on some new challenges."
Athletic director Lew Perkins, who was in the locker room during Bunge's announcement, also issued a statement through the media-relations office, thanking Bunge "for everything she's done here."
Perkins added that he and his staff would continue to rely on her during the transition process.
"We wish her every success as she pursues her career outside of coaching," Perkins' statement said.
It's no secret this has been one of Bunge's most disappointing seasons. The Jayhawks won 37 games last year — the most during Bunge's tenure — and she had high expectations for this spring with eight starters and her entire pitching staff returning.
But the Jayhawks have underachieved and will take a 17-27 record into today's twinbill with the Bears. In her first dozen years, Bunge had only two losing seasons and earned four trips to the NCAA Tournament. Kansas also won the Big 12 Tournament in 2006.
Bunge came to KU in 1997 after spending three years as head coach at Ohio University. Prior to that, she had been an assistant coach at Yale and Iowa State. A native of Bartlesville, Okla., Bunge succeeded Kalum Haack. Her tenure is the longest of any softball coach since KU inaugurated the program in 1970.
More like this story on KUsports.com