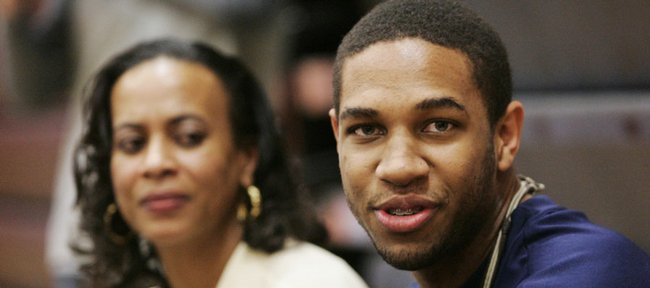 Oklahoma City — Xavier Henry fiddled with his cell phone, delaying the start of his much-anticipated news conference late Thursday morning in Putnam City High School's gym.
"He's trying to get C.J. on the phone," Henry's mom, Barbara, said of Xavier's older brother, a freshman at the University of Memphis.
No way 18-year-old Xavier was going to announce his decision to play basketball at Kansas University without his beloved, 22-year-old sibling listening on the line.
"Me and my brother ... there's no separating us. I'd do anything for him," Xavier Henry said. "That's why I'm going with him to college. I want to spend as much time with him as I can."
To the delight of KU coach Bill Self and Jayhawk fans everywhere, the Henry brothers will be spending at least the next school year together ... at KU.
Xavier Henry — who signed with Memphis last Nov. 18 for the sole reason of playing basketball with his brother who enrolled at Memphis in September after a short-lived three-year pro baseball career — Thursday made official his decision to become a Jayhawk.
This time, C.J. — who elected to leave Memphis following Tiger coach John Calipari's decision to take the Kentucky job on April 1 — will follow Xavier to KU.
The New York Yankees will pay non-scholarship guard C.J.'s tuition as part of a pro baseball contract C.J. signed in 2005.
"I always loved Kansas. I always watched them. It's always been a dream school for me," said Xavier, a 6-foot-6, 225-pound shooting guard, who has been hooked on KU for years.
His dad, Carl, mom, and aunt Vickie all played for KU.
"I just always dreamed of going to Kansas. I took a step back (because) my brother was at Memphis. I did it to keep the family together. Now that he can play anywhere with the coaching change, I got my chance at Kansas."
The fact that the baby of the family is now happy had Henry family members smiling on Thursday.
"I'm excited. The whole family is excited," said Barbara. "I know Xavier's heart was with Kansas when he chose Memphis. It was his brother .. he wanted the opportunity to play with his brother once in his life," Barbara added.
C.J., a 6-foot-3 point guard/shooting guard, noted: "We just wanted to play together. At Memphis, under coach 'Cal,' it wasn't going to happen. I think Kansas is the place Xavier wanted to go in the first place. I guess he (gets to) the second time. It'll be a great experience. It'll be fun."
Self's in good spirits
KU coach Bill Self cracked a joke when asked if it was fitting Xavier now gets to attend KU — a place he wanted to commit to five months ago.
"It's fitting for us," Self said. "I think our university and alumni should be really excited. Circumstances were not right the first time. Now it's come full circle and the family gets to be together ... it just happens to be here."
Self — he played against Carl Henry in high school and worked at KU as a grad assistant when Barbara and Vickie played here — said he was thrilled to land Xavier because of the family ties.
He could not talk about C.J. on Thursday because he's not enrolled in school in Lawrence yet. Xavier signed a grant-in-aid agreement, thus the reason Self could comment on him.
"I don't know if I've ever had a chance to recruit somebody of that talent where both parents are alums. That makes it even more special for me personally," said Self, who admits he was "crushed" when Xavier chose Memphis in November.
"I'll be honest. We all were," he said of his staff. "Not crushed in terms of being mad. At that time, a lot of things were going on. Xavier was in a car accident, which was serious enough where they wanted to keep the family together. We certainly understood that. As disappointed as we were before, we are probably more happy now.
"The Henrys are a great family."
One-and-done?
One family member — C.J. — likely will be at KU longer than Xavier.
Xavier, who is ranked No. 3 nationally by ESPN and No. 8 by Rivals.com, is widely considered a "one and done" type player headed to the NBA after one season.
Xavier averaged 28.7 points and 6.9 rebounds this past season for state champ Putnam City. Carl has said NBA front office personnel told him his son was physically ready for the league as a high school junior.
"If it happens, it happens," Xavier Henry said. "I just want to concentrate on winning a national championship. If I go one and done I go one and done. I just want to concentrate on next year, trying to win a championship — two in three years."
Self — he acknowledged that Xavier Henry was the highest-recruited player "across the board" he's ever pursued — also addressed the one-and-done issue.
"I don't know. He certainly has the potential to be that," Self said. "I wouldn't stand in his way of being that. Based on my talks with him, his whole deal is 'I want to go to college, be a college kid, go help the University of Kansas win a title.' When the time is right, he'll know it's right. If we play well, those things take care of themselves. I know he's unselfish and will be thinking along those (unselfish) lines."
Self said Henry gives KU something it didn't have a year ago — somebody who can guard an opponent's tall wing player.
"He's built like Brandon (Rush)," Self said. "He's one of the few guys who has a chance of shooting it like Brandon. He's a true big guard. He can put the ball down, get to the hole, and get fouled. He's a versatile offensive player."
C.J.'s strengths
Since Self couldn't comment, here's Putnam City High coach A.D. Burtschi's take on C.J. Henry's game:
"C.J. played a lot of point for us, particularly his senior year," Burtschi said, noting C.J. was recruited by KU, North Carolina and others. He orally committed to KU in April of 2005 before inking the Yankee contract.
"He's a guy who could be a pure 2 (off guard), but if you need him to be a 2, how are you going to get his brother out of the way?" Burtschi joked.
"He's a great athlete. Here's a guy that stepped out of his basketball jersey after the state final, plays his first baseball game the next day and hits two home runs. People worry about the fact he hasn't played basketball in three years. With his competitive spirit ... I believe that will serve him until he gets the rust off. No doubt he loves competition."
C.J. will remind you that he, like his brother, is a darn good basketball player.
"My game will end up speaking for itself. I think I'm going to play," said C.J., who along with his mom believes he'll be able to play during the 2009-10 season and not have to sit out a year in accordance with NCAA transfer rules.
"According to the NCAA rules, with C.J. being a non-recruited athlete, his scholarship was being financed through the Yankees which makes him qualified for a one-time transfer rule. He'll be able to play," Barbara said.
The battle for No. 13
First up at KU will be a sibling battle for jersey No. 13. Both Henrys wore 13 at Putnam City in honor of dad, who wore No. 13.
"Me and Xavier will probably have to play for it. He is probably going to want 13," C.J. said. "We'll have to play for it then."
"If he wants to be 13 ... then I'll be No. 1," noted Xavier, who has proven he'll pretty much do anything for his beloved older brother.
"I love my family. I'd do anything for my family," Xavier said.
More like this story on KUsports.com