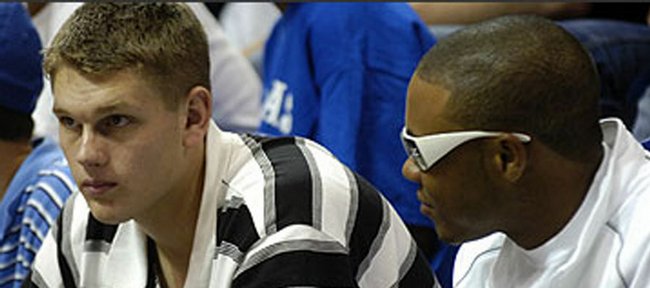 Terrific talent Tyshawn Taylor sometimes looked as if he got caught standing up when he should have been locked in a defensive stance. Taylor's coach let him have it for such lapses, but it's not as if Bill Self could have replaced him with close to an equal talent.
Now he can, which is one reason Taylor will push himself harder to remain in that defensive stance longer.
Some nights, it seemed, both Morris twins just didn't have it. Still, Self had to play them. Now he doesn't. Here's guessing those nights spent on the perimeter — or was it Mars? — will become rare occurrences. They'll either be sprinting from block to block and hitting the boards with everything they've got or they'll be hitting the bench. With a full year of experience, the likable post players fully appreciate how much effort is required.
Sherron Collins carried so much of the ballhandling and scoring load on the way to the Sweet 16 that by the end of a few of his 38-minute nights, exhaustion led to waning focus, which led to turnovers, even missed free throws. Self didn't have much choice. He couldn't afford to let the game slip away while Collins rested.
Xavier Henry gives Kansas a third big-time scorer and prototypical offensive and defensive small forward. Plus, he's an outrageous talent.
Yet, Henry is far from the only addition to the roster who will make the Jayhawks much better on the perimeter than they were when they took a lead into the final minutes against Michigan State.
Don't anybody confuse C.J. Henry with Ronnie Chalmers. Xavier's older brother is a player Kansas would have wanted by himself, especially since he doesn't count toward the scholarship limit because the New York Yankees are paying his tuition. C.J. will be a sophomore, even though he hasn't played any college basketball. The NCAA starts the clock ticking once a player turns 21. Henry, 23 next month, had four years left to play once he turned 21 and one of those four years was spent recovering from a broken foot while he attended Memphis.
The older Henry plays point guard, boasts terrific athleticism, and is an accomplished shooter. It will be interesting to see which player provides Collins much-needed rest more often, C.J. Henry or freshman Elijah Johnson. Which happens first: Henry knocks off rust or Johnson's wild game is tamed? Either way, depth at point guard also means Collins can spend part of his time on the court off the ball.
Up front, Thomas Robinson, a remarkable athlete in a power forward's body, gives Cole Aldrich more rebounding help than he had last season and he gives the Morris twins a player to try to out-hustle.
Arizona de-commit Jeff Withey, a skilled 7-footer who runs the floor well, doesn't yet have the body to bang with the likes of Aldrich, Robinson and the Morris twins. Next year could be the year he does most of his improving in practice, a path that worked well for more physical post players Sasha Kaun and Darnell Jackson in their freshman seasons.
Better depth, star power, flexibility, athleticism and shooting means Armageddon every time the Jayhawks lose a game. Don't look for the world to end too often next year.
More like this story on KUsports.com