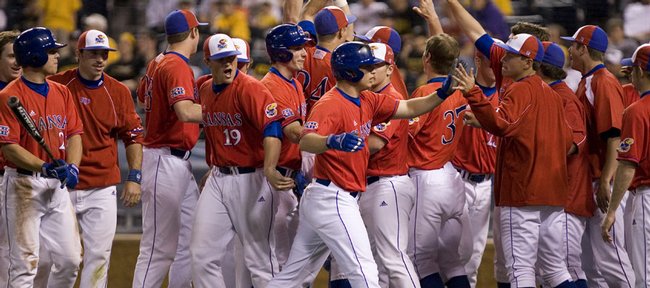 Kansas City, Mo. — Preston Land initially thought of his future when he met with head coach Ritch Price for a sit-down before this season began. He envisioned what he might like to say at year's end when he exited the Kansas University baseball program for good.
"Thanks for sticking with me," the first baseman would say to his coach. "I'm happy I could have a good year for you this senior year."
It doesn't sound like much. But Land truly didn't know if he'd be able to utter those words come May given his dreadful performance at the plate the past two seasons. Now, though, it's safe to say he feels much more comfortable with that speech.
Land continued his recent power streak on Wednesday night, launching the go-ahead three-run home run over the left-field wall in the sixth inning as Kansas defeated Missouri, 7-3, in the teams' Border Showdown matchup at Kauffman Stadium.
The blast marked Land's third home run of the season, with all three coming since Friday.
"He's got great talent," Price said. "It's nice to see him playing up to his ability."
To understand what this renaissance has meant to Land, one first must probe into the last two-plus seasons of his Jayhawk baseball career.
Following a breakout freshman year in which he hit .314, Land's batting average spiraled into the tank. He barely cracked baseball's infamous Mendoza line as a sophomore, batting .206, and again struggled during his junior year with a .221 batting average.
He had been putting too much pressure on himself to replicate his sensational rookie season, he said.
"It's a mental drain, you know," Land said. "It was rough my sophomore and junior year because the team wasn't winning that much."
He didn't begin this season with a particularly rousing effort, either, going the first two months without a home run. On top of that, freshman Zac Elgie's production at the plate threatened to take away more of Land's repetitions as the season progressed.
Price stuck with Land anyway.
"That's one of the things you hope as a coach, that when you stick with somebody through adversity that at some point and time that young man will contribute for you and you'll be rewarded for your patience," Price said.
Wednesday, Price earned the prize he'd waited for all season.
With Kansas trailing in the sixth, 3-2, Land bombed a first-pitch fastball off Missouri reliever Ryan Clubb to push KU in front, 5-3.
Kansas shortstop David Narodowski padded that margin in the eighth with a two-run, bases-loaded single up the middle, but Land's blast proved to be the turning point.
"I had a feeling we were going to take that game after that point," Narodowski said. "We just had to keep on hitting."
Kansas (27-14) received a workmanlike effort from starting pitcher Brett Bollman, who tossed 5 1/3 innings and allowed three runs. Bollman did not earn a decision. His 1.98 earned-run average still leads the team.
KU reliever Colton Murray held off Missouri (21-21) through the sixth and seventh, and he picked up the victory as Clubb earned the loss.
Land's batting average still hovers at .242 after his 1-for-4 showing Wednesday. But with his newfound relaxed approach, Land thinks he finally has found the antidote to his hitting ailments — which means his year-end meeting with Price is on track to proceed as scripted.
"It's just coming together right now," Land said, "and hopefully I can keep it up the rest of the year."
More like this story on KUsports.com