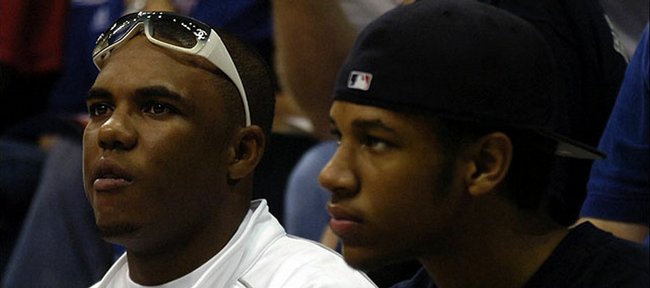 Locals are referring to Thursday morning's main event as "Xavier Henry Press Conference Part Deux."
Henry, a 6-foot-6 blue-chip McDonald's All-American who is the country's No. 8-rated high school basketball senior according to Rivals.com, for the second time in five months will announce his college choice in front of print and electronic media types, family and friends at 11:15 a.m. today in Putnam City High's gym.
Back on Nov. 18, the selection was Memphis.
This time, sources say — barring any late change of heart — it's Kansas University.
The Journal-World — as well as Foxsports.com, ESPN.com, CBSsportsline.com, Rivals.com, Zagsblog.net, Daily Oklahoman, Lexington Herald-Leader, Louisville Courier-Journal, Memphis Commercial-Appeal as well as several other Kansas media outlets and Kentucky recruiting Web sites — have sources close to the Henry family saying KU won out this time over Kentucky and Memphis.
Coaches from all three schools have been informed of Henry's choice. Xavier's brother, C.J. Henry, a 6-foot-3 red-shirt freshman nonscholarship guard at Memphis, also is expected to move over to KU.
The New York Yankees will continue to pay for C.J.'s schooling, and he will not count against the scholarship limit of 13.
"They (brothers) want to get it over with. We (parents) want to get it over with," Carl Henry, father of the Henry brothers, said of the second recruiting saga, which started April 1, when Memphis coach John Calipari left the Conference USA school for Kentucky.
That's when the Henrys asked to be released from their letters of intent.
Xavier, who averaged 28.7 points and 6.9 rebounds a game this past season for state-champion Putnam City High, scored 14 points in the McDonald's game and 22 points off 7-of-12 shooting (including six made threes) for Team USA in the Nike Hoops Summit.
Henry's dad, Carl, told the Journal-World that NBA scouts indicated Xavier was "physically ready" for the pros his junior year of high school.
"He knows the game," Carl Henry said.
He's considered a certain "one and done" college player.
"He's told me it's for one year. He gets upset when I've said he might like it and stay two," Carl Henry said with a laugh.
Recruiting analysts love Xavier's game.
"The way his body is defined ... it's an NBA body," said Shay Wildeboor of Rivals.com, referring to the 210-pounder. "He has a smooth stroke from beyond the arc. When he is at his best, he can shoot, score off the bounce, has a mid-range game and excels in transition."
He expects to fill a need at the wing position in KU's rotation.
"Last year, teams talked about stopping Sherron (Collins) and Cole (Aldrich). A lot of times there was no third scoring option — sometimes Tyshawn (Taylor), Brady (Morningstar)," Wildeboor said. "This gives them a legitimate third scoring option, that and so much more."
If Henry commits today — he can't sign another letter and will not be bound to KU until first day of class this summer — he would fill KU's scholarship allotment of 13.
The Jayhawks are believed still to be pursuing Raleigh, N.C., point guard John Wall, who is considering Duke, North Carolina State, Kentucky, Baylor and others.
It is believed Lance Stephenson, a 6-6 guard/forward from Brooklyn, N.Y., who has narrowed his list to KU, Maryland and St. John's, now will not attend KU. Zagsblog.net reports that the Stephenson camp was keeping a low profile Wednesday amid reports of Henry heading to KU.
Carl says: Carl Henry, who spoke to the Journal-World on Wednesday morning, would not confirm reports of his sons choosing KU.
He was a bit more direct when reached by the Lexington Herald-Leader.
"If I was a betting man, I'd bet 100 percent my kids will go to Kansas," Carl told reporter Jerry Tipton.
Carl Henry told Tipton much of the decision came down to Xavier and C.J.'s mother, Barbara, who wanted to be close enough to see her children play often.
"To me, they don't want to buck the system," Carl Henry told Tipton. "There is no way they want to see their mother unhappy."
After being told that his "100 percent comment"would make headlines, Carl Henry backed off just a bit.
"Make it 70 percent," Henry said with a laugh to Tipton.
About today's news conference: Putnam City basketball coach and athletic director A.D. Burtschi said Wednesday that Xavier will make a brief statement, take a couple of questions, then speak to print reporters, followed by TV reporters at the news conference. It's possible C.J. Henry will be made available on the phone.
KU coach Bill Self will not be able to comment on the Henry commitment until the player attends classes at KU.
Will he sit out ... or won't he?: C.J. Henry, who sat out last season at Memphis because of a broken bone in his foot, would come to KU as a walk-with the Yankees paying for his schooling as part of the contract he signed in 2005. C.J. will appeal to the NCAA for immediate eligibility. Normally recruits must sit out a year after making a transfer.
"He will be able to play," Carl Henry said. He explained that because his son initiated recruiting contact with Memphis and the Yanks paid his tuition, there is a "one-time eligibility rule" that will allow him to play in games in the 2009-10 season.
Scouting report: Here's what draftexpress.com had to say about Xavier Henry on April 16: "After a solid showing at the McDonald's game, Henry managed to take some time to put his recruiting situation out of his mind, and entered this week with a solid focus. This paid off for the talented wing, who lead Team USA in scoring (at Nike Summit) and showed some very nice skills in the process. Eighteen of Henry's 22 points came from behind the three point line, where he shows good form and a quick release. The lefty shoots the ball with a great deal of confidence as well, and has no reservations about taking another shot, even if he badly missed the last one. The rest of his points came on one drive to the hoop where he displayed solid body control, and another finish on a basket cut in the half-court.
"He needs to further develop his ball-skills before he should be considered NBA ready, and a more polished mid-range game would be a nice step as well. He has a strong body, good size, and impressive defensive tools, however, and should ease into the role of shooting specialist very comfortably wherever he ends up next season."
More like this story on KUsports.com