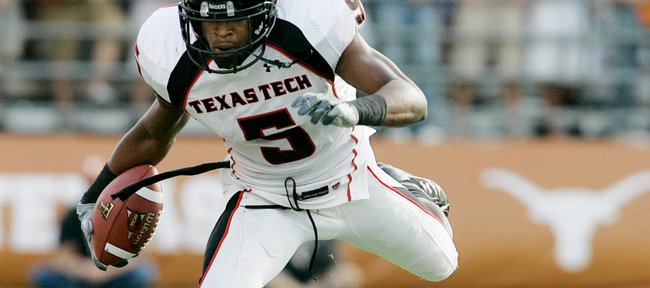 Reader poll
Baylor OT Jason Smith

18%

97 votes

Missouri WR Jeremy Maclin

11%

60 votes

Texas Tech WR Michael Crabtree

46%

251 votes

Texas DE/OLB Brian Orakpo

10%

56 votes

Kansas State QB Josh Freeman

5%

27 votes

Oklahoma State TE Brandon Pettigrew

8%

45 votes
536 total votes.
With the 20th pick in the 2008 NFL Draft, the Tampa Bay Buccaneers selected Aqib Talib, cornerback, Kansas University. It was the only time a Big 12 Conference player heard his named called in the first round.
When the 2009 draft takes place Saturday in New York, that likely won't be the case again. There's a good chance the Big 12 will make up about one-fifth of all first-round selections this year.
The most recent mock draft on ESPN.com, released Tuesday by draft analyst Todd McShay, predicted six Big 12 players would be taken in Round 1. The last and only time the Big 12 had six players selected in the first round was in 2003.
The first and second rounds of the draft will take place at 3 p.m. Saturday, while rounds three through seven are set for Sunday, starting at 9 a.m.
A rundown of potential Big 12 first rounders:
Jason Smith, OT, Baylor
McShay's mock: No. 2, St. Louis.
Smith has skyrocketed on draft boards the last few months. It's a combination of things. First, tackle is one of the most important and most difficult positions to fill. Teams are always looking for tackles to protect their prized quarterbacks. Second, the stock of Alabama tackle Andre Smith (no relation) has plummeted in recent weeks due to his reported lack of professionalism in interviews. He also arrived at the NFL Combine out of shape. Before that, he was suspended for Alabama's bowl loss against Utah for violating team rules. Not the most attractive qualities.
Enter Baylor's Smith, who anchored a Bears offensive line that protected Big 12 newcomer of the year Robert Griffin and his 2,934 combined passing and rushing yards (28 total scores) last season. McShay wrote that Jason Smith has the athleticism and tenacity of a premier starting left tackle. Rams quarterback Marc Bulger was sacked 38 times last season, fourth-most in the NFL. Seems like an obvious pick.
Jeremy Maclin, WR, Missouri
McShay's mock: No. 7, Oakland.
McShay rated Texas Tech receiver Michael Crabtree higher than Maclin, but Raiders owner Al Davis covets breakaway speed, and Maclin — "one of the fastest and most explosive players in the draft," McShay wrote — is considered the superior home run threat. He could also help on kickoff and punt returns.
Maclin racked up 2,833 all-purpose yards last year: 1,260 receiving, 293 rushing and 1,280 in returns.
Either way, Oakland could use a go-to receiver. Javon Walker hasn't developed into that guy. Oakland's leading wide receiver from last season, Johnnie Lee Higgins, caught only 22 passes.
Also of note: Jacksonville, which drafts after Oakland at No. 8 and could also use a receiver, signed former Rams wideout Torry Holt to a three-year, $20 million contract on Monday. Maclin, a St. Louis native, said at last summer's Big 12 Media Days that Holt was his favorite player and he tried to mold his game after the seven-time Pro Bowler. If Oakland takes Crabtree, the Maclin-Holt possibility in Jacksonville could be fun to watch.
Michael Crabtree, WR, Texas Tech
McShay's mock: No. 8, Jacksonville.
This move would make sense for a Jaguars team that parted with receivers Matt Jones, Jerry Porter and Reggie Williams this offseason. Jacksonville hasn't had a premier wide receiver since Jimmy Smith, and Crabtree could be that guy. The Holt addition helps, but he turns 33 in June.
In just two years in Lubbock, Crabtree caught 231 passes for 3,127 yards and 41 touchdowns.
There's been concern with Crabtree, though, which could explain why he fell from No. 5 to No. 8 on McShay's draft board. Is he truly 6-foot-1? Additionally, Crabtree is coming off surgery for a stress fracture in his foot.
Crabtree provided one of the most memorable moments in Big 12 history when he caught a 28-yard pass from Graham Harrell, tiptoed along the sidelines and scored the game-winning touchdown that capped Tech's 39-33 victory over Texas on Nov. 1 in Lubbock, Texas.
Brian Orakpo, DE/OLB, Texas
McShay's mock: No. 11, Buffalo.
At 6-3 and 263 pounds, Orakpo has the athleticism to play on the end and drop back into coverage at linebacker. He had 11 sacks for a Texas squad that led the Big 12 in team sacks last season with 47. The Bills had only 24 sacks last season, tied for fourth-worst in the NFL.
Josh Freeman, QB, Kansas State
McShay's mock: No. 17, N.Y. Jets.
Freeman's draft position could be one of the most intriguing storylines to follow. McShay's initial mock draft didn't include Freeman in the first round. He's considered a boom or bust selection.
"Freeman would definitely be a reach at (No. 17) given questions about his instincts and consistency, but his size and rifle arm could be enough to overshadow any concerns," McShay wrote.
ESPN rated Freeman exceptional in arm strength and above average in mobility and accuracy. He was rated average on his game management and release (he's said to have a three-quarter release that gives defensive backs a bit of a jump).
Brandon Pettigrew, TE, Oklahoma State
McShay's mock: No. 24, Atlanta.
Pettigrew had 42 catches for 472 yards last season. He didn't record a touchdown, but he's 6-5 and 263 pounds ("prototypical height and bulk for an NFL tight end," an ESPN report said), so teams won't shy away from him. McShay predicts Pettigrew will be the only tight end taken in the first round. Atlanta's leading tight end had only 15 catches last year, so this seems like a feasible pick.
Fringe first-rounders, more likely second-rounders
Evander 'Ziggy' Hood, DT, Missouri; William Moore, S, Missouri; Phil Loadholt, OT, Oklahoma.
McShay's third-rounders
Duke Robinson, OG, Oklahoma; Chase Coffman, TE, Missouri; Michael Bennett, DE, Texas A&M; Brandon Williams, DE, Texas Tech.
McShay's fourth-rounders
Mike Goodson, RB, Texas A&M; Darcel McBath, S, Texas Tech; Roy Miller, DT, Texas; Lydon Murtha, OT, Nebraska
McShay's fifth-rounders
Juaquin Iglesias, WR, Oklahoma; Nic Harris, OLB, Oklahoma; Louis Vasquez, OG, Texas Tech.
McShay's sixth-rounders
Matt Slauson, OG, Nebraska; Stephen McGee, QB, Texas A&M; Ryan Palmer, CB, Texas; George Hypolite, DT, Colorado
McShay's seventh-rounders
Ian Campbell, DE, Kansas State; Quan Cosby, WR, Texas; Cedrick Dockery, OG, Texas; Henry Melton, DE, Texas; Graham Harrell, QB, Texas Tech; Lendy Holmes, S, Oklahoma (who has the honor of Mr. Irrelevant in McShay's mock draft at No. 256 to Kansas City).
More like this story on KUsports.com