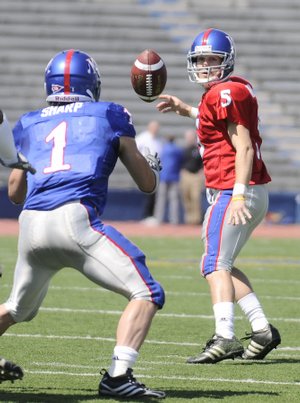 Strangely, when a great athlete becomes greater, we tend to ask ourselves, "How did he do that? How did he become even greater at what he does that makes him great? It didn't seem possible, but he did it. How?"
When you think about it, we ought to react in opposite fashion. Of course they get better. They didn't become great by letting complacency infect them. They became great by constantly challenging themselves to become more efficient, more precise.
Just when it seemed former Atlanta Braves ace Greg Maddux couldn't locate his fastball any better, he walked 20 men (six intentionally) in 2322⁄3 innings in 1997.
Just as it looked as if Troy Aikman reached his peak, he completed 69.1 percent of his passes and was intercepted on just 1.5 percent of his passes.
Watching Todd Reesing shred the second-team defense in the spring game called to mind watching Maddux removing the need for the catcher to move his mitt and seeing Aikman with a star on the side of his helmet and 10 human ones staring at him in the huddle, hitting receivers in stride.
Yet, instead of expecting Reesing to look better than ever, I repeatedly was asking myself, "Is it just me, or is he even more accurate? How is that possible? It's spooky."
No, it's what we all should expect from an athlete so competitive, so smart, so blessed with extraordinary mental and physical instincts for playing the most important position on the football field, an athlete who turned the talented Kerry Meier into a second-string quarterback and nationally prominent receiver. (Meier, by the way, in the past two seasons has completed 28 of 32 passes for 349 yards and four touchdowns without throwing an interception.)
Reesing completed 16 of 22 passes for 221 yards and a touchdown in the spring game, numbers that hint at but don't fully capture how accurate he looked.
Obviously — is it just me, or does Reesing start every answer during interviews with that word? — completions and touchdown passes won't come as easily against the five Big 12 heavyweights (Oklahoma, Texas Tech, Nebraska, Texas and Missouri) on the 2009 schedule, but all you can do in a spring game is look at all the signs, good and bad, and Reesing didn't show any of the latter.
"I don't know how he does it," emerging junior-to-be Johnathan Wilson said. "He's short, and he can see over the line. I can't see him when I run my routes, but the ball is there, so I don't mind. He throws a good, catchable ball. He makes it easy on the receivers. It's pretty much in your chest area. You don't have to go too low or go too high. Once you catch it, you have enough time to run with it."
Reesing can't always see the behemoths looking to slam him to the turf, but he nearly always feels them closing in while his eyes are scanning the field for an open receiver, extending a busted play so he eventually can fix it.
In building a 20-6 record in two seasons as a starter, Reesing has completed 64 percent of his passes, has thrown 65 touchdown passes and 20 interceptions and has averaged 284 passing yards per game.
To expect Reesing to improve those numbers in his final season would be both greedy and on target.
More like this story on KUsports.com