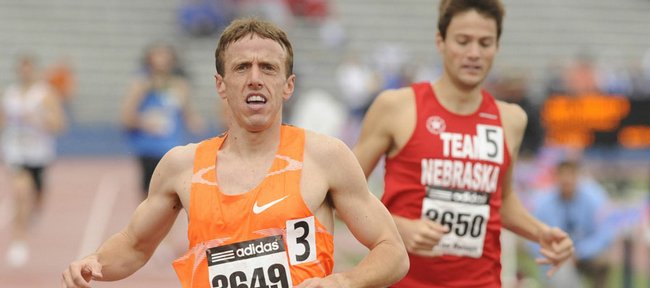 Even now, 55 years after Roger Bannister made history on a dirt track in Oxford, the four-minute mile has managed to maintain a level of intrigue that defies true explanation.
Somehow, it has remained as one of sport's greatest accomplishments (or 'the' greatest accomplishment, as Forbes magazine has tapped it). It has occurred many times before. It will occur many times again. Still, the feat holds a certain mystique within the realm of athletic achievement. Still, it manages — even as popularity for track and field has dipped significantly over the years — to capture America's interest.
And that, specifically, is why a good number of people trickled into Memorial Stadium on Saturday afternoon to witness Alan Webb take first place in the Glenn Cunnigham Invitational Mile at 3:58.9 on the final day of the 82nd annual Kansas Relays.
"It was great to go under four minutes and win the race," Webb said. "This was my first race outdoors this season and I am happy for sure."
A former swimmer who turned to running full-time only after his high school wouldn't give him an exemption allowing him to do both, Webb broke Jim Ryun's high school mile record in 2001 and, six years later, the American mile record. He arrived in Lawrence as perhaps the country's best-known miler.
Asked on Friday why, after all these years, the feat was so meaningful, Webb thought for a moment before answering.
"Mount Everest has been climbed many times, but there's still that draw to it," he said.
Shortly before his 12:55 p.m. race on Saturday, people watched as Webb took the track in his bright orange singlet, and, upon hearing the blast of the starter's gun operated by former Kansas icon Jim Ryun, proceeded in his attempt to give the people what they wanted.
He succeeded.
Even after trailing most of the race and even after the disappointment of a 2008 season that saw him miss the Olympic Games by two spots, Webb managed to find another gear during the final lap, drafting behind Peter Van Der Westhuizen for much of the race, and then, in the homestretch, powering past him to finish with a victory.
When he crossed the finish line, he did so to a standing ovation. Webb's final time of 3:58.90 was just more than four seconds slower than Ryun's meet record of 3:54.7, but fast enough to satisfy Webb.
He spoke briefly to the crowd at the champion's stand, then gathered his things and jogged off the track, toward the parking lot. Hurrying to catch a flight, he stopped just long enough to answer a question or two from the waiting media.
Webb was asked about the four-minute barrier. Whether it was still something that excited him. It wasn't the first time he'd broken four minutes, after all. It certainly won't be the last. But?
"It's still cool to see that number," he said, smiling.
And then he was off.
More like this story on KUsports.com