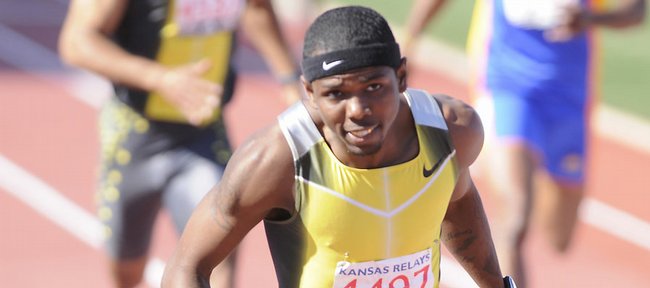 Audio clips
2009 Kansas Relays
A man without a soul takes his Olympic medal and squirrels it away in a safe deposit box to ensure nothing happens to it. Bershawn "Batman" Jackson, bronze medalist in the 2008 Summer Olympics in the 400-meter hurdles, is not that man.
"I keep it at my grandma's house," Jackson said. "She's one of my biggest supporters, one of my biggest fans. I told her it was for her. I'll get another one. She keeps it in her living room (in Miami) on her little trophy stand with the shoes I wore that day."
Spend 47.3 seconds, his personal record in the event, with the man, and it's obvious he remembers every single person who has helped him along the way. He makes sure to return the favors.
Jesse Holt is one of those people who helped Jackson to keep making the right turns in life and left turns around the track. So Jackson treated Holt and his wife to the Beijing Olympics and donates generously to Holt's Northwest Express Track Club in Miami.
"My parents didn't really have it financially, and this guy never left me behind," Jackson said of Holt. "He brought me to all the out-of-town meets. He kept me involved, kept me level-headed. Without him, I wouldn't be here right now."
Jackson trains out of Champaign, Ill., but remains proud of his hometown of Miami. Proud, yet frank about its horrifying underbelly.
"Coming from a place where everybody sells drugs and kills to make a living, out of all the talent we ever had in Miami, I made it," Jackson said. "I saw a lot of guys who could have made it, had the potential, had the talent, but just didn't have the heart, didn't have the determination. A lot of them got killed. Drug deals went bad. I'm away from that, and I'm going to keep doing good for my city."
He's used to beating the odds. Jackson excels in an event made famous by 6-foot-5 Edwin Moses, who won 122 consecutive races and earned gold medals in the 1976 and 1984 Olympics. Known for his long stride, Moses took 13 steps between the hurdles. The 5-7 Jackson takes 15. He might make it look easy today at 3:45 p.m. when he goes for his fifth consecutive Kansas Relays victory, but he wants it known that it's not.
"It's much easier for taller guys," he said. "I have to train harder because when it comes down to the last two hurdles, their long legs help them, and I've got to actually hurdle. I've got to actually jump. They just walk over them."
Batman's a great salesman for the Relays.
"I love this meet," he said. "This is where it all begins, my first race of the year. A lot of high school kids come through the meet. This is where legends are born at a meet like this. High school athletes see professional athletes perform, and one day they're going to be in the position I'm in."
He's a terrific role model for the young runners who approach him for autographs and advice. The man knows how to outrun negatives.
"When I was younger, they say I had big ears, and I'd fly past people when I'd run," he said of his nickname's origin. "It was something I hated at first, calling me Batman because of my ears. Eventually, they cheered for me: 'Batman! Batman! Batman!' People started knowing me for something positive."
More like this story on KUsports.com