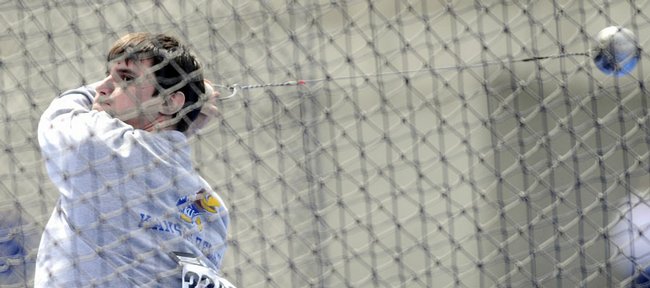 The good news for Amanda Miller, a sophomore distance runner on the Kansas University track and field team?
With Thursday's victory in the women's 5,000-meter run, she earned her first victory in the Kansas Relays — a meet which counts Jim Ryun, Marion Jones and Maurice Greene as past participants.
The bad news?
"I have class tomorrow," the Olathe native said.
On a rather low-key evening at Memorial Stadium — Kansas distance coach Doug Clark called it a "developmental day" — Miller and the rest of the Jayhawks distance team put together a superb showing.
Kansas runners took first or second in six of 10 distance events Thursday, highlighted by first-place finishes by Miller, Lauren Bonds (women's 800), Kellie Schneider (women's 1,500), Greg Bussing (men's 1,500) and Kara Windisch (women's 3,000).
Despite competing with a several inexperienced runners — many of the team's athletes who are currently red-shirting competed Thursday as "unattached" runners — the Jayhawks managed to shine against various Div. I opponents, a fact that proved especially encouraging to Clark.
"We have 10, 11 freshmen on the team this year, and roughly half we red-shirted, and half of them are running," said Clark. "And both groups are doing a great job."
In the day's other events, Egor Agafonov, whose eligibility has expired but was able to compete unattached Thursday, and Zlata Tarasova earned second-place finishes in the men's and women's hammer throw, respectively, and Jacob Breth finished out the men's decathlon in fifth place.
Kansas' Corbin Kratovil, who began the day in second place overall in the men's decathlon, did not finish Thursday.
For Agafonov, a six-time Big 12 champion during his Kansas career who plans to return to his native Russia after graduating in May, Thursday's competition marked the last time he'll compete at Memorial Stadium.
"We're going to miss him," KU throwing coach Andy Kokhanovsky said. "He's a great athlete, and we wish him the best."
Day Three of the Kansas Relays is set to continue today, with events starting at 8 a.m.
More like this story on KUsports.com