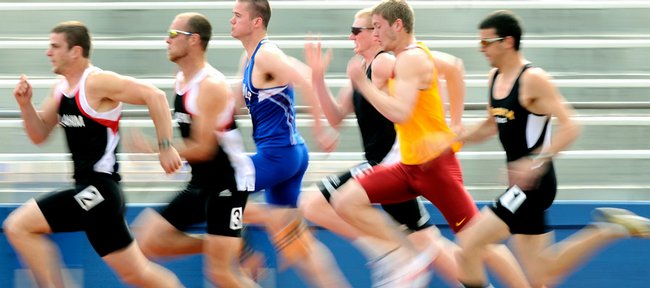 There was no snow, and winds were not unbearably heavy, so in that regard, Wednesday was a good day to be a competitor in the Kansas Relays in the eyes of KU decathlete Corbin Kratovil.
"I'm from South Dakota, so during this time of the year our tracks are covered with snow and the winds are 50 mph," said Kratovil, a freshman. "So it's pretty cool being in this stadium and this atmosphere."
In the first half of the men's decathlon — during the opening day of the Kansas Relays at Memorial Stadium — Kratovil surged to a second-place finish through the first half of the decathlon's 10 events, which resumes today with the 110-meter hurdles, discus, pole vault, javelin and 1,500-meter run.
Kratovil won the men's shot put with a throw of 12.65 meters, finished third in the long jump, tied for third in the high jump and fifth in both the 100-meter dash and 400-meter run to total 3,512 points. Minnesota's Joey Schwecke leads the event with 3,728 points.
KU's Jacob Breth is in fifth place after Day One, totaling 3,380 points after concluding Wednesday's action with a victory in the 400.
"If both of them can continue the pace they're going on now (and) finish the same way they finished up today, I think it would be excellent," KU track coach Stanley Redwine said of Kratovil and Breth.
Asked whether he thought one of his athletes had an edge over the other heading into the event's final day, Redwine smiled.
"I won't say a word about that," he said.
Arkansas State's Amy Bowman leads the heptathlon with 3,102 points through four events.
More like this story on KUsports.com