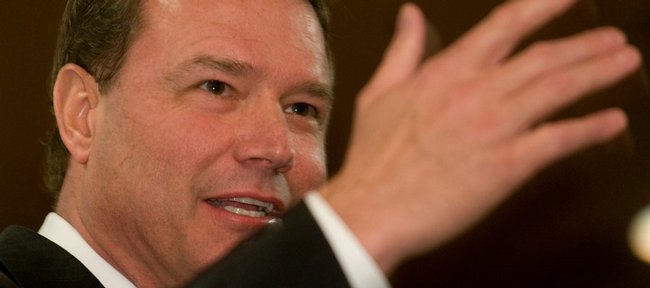 The "I'm staying" declarations of Cole Aldrich and Sherron Collins have made Kansas University's basketball team a popular early pick to win the 2010 NCAA basketball championship.
"Kansas just became the clear-cut favorite," FOXsports.com's Jeff Goodman wrote Tuesday in response to the news at Monday's KU basketball banquet that Collins would return for his senior season and Aldrich his junior campaign.
"Collins is arguably the top returning point guard in the country. Aldrich will come back as one of the elite big men in the nation," Goodman wrote.
CBSsportsline.com's Gary Parrish and ESPN.com's Andy Katz also have KU preseason No. 1, while Mike DeCourcy of the Sporting News has KU No. 2 behind Syracuse. The preseason polls figure to change following the month-long spring signing period (which starts today) and after the (June 15) NBA early-entry withdrawal deadline.
"We have a lot of pieces returning and a few new faces. We'll be real good and in the hunt for the national championship," Collins said.
KU returns all five starters from last season: Collins, Aldrich, Tyshawn Taylor, Marcus Morris and Brady Morningstar. Returnees who played significant minutes include Tyrel Reed, Markieff Morris, Mario Little and Travis Releford. Also in the mix next season will be newcomers Elijah Johnson, Thomas Robinson and Jeff Withey (after first semester).
Currently at 12 scholarship players (one under the limit), KU is still in the running for Xavier Henry, 6-foot-6 from Oklahoma City; Lance Stephenson, 6-6 from Brooklyn, N.Y.; John Wall, 6-3 from Raleigh, N.C.; and Daniel Orton, 6-10 from Oklahoma City, who may ask out of his letter-of-intent at Kentucky.
"We had great talent this year. I think Sherron and I can work on the new guys coming in this summer, helping these guys improve and I think we'll be really good next year," Aldrich stated. "We have great talent. Guys will work hard. I think it'll be a fun year."
Aldrich said the Jayhawks would be ranked "pretty high" to start the '09-10 season.
"We've got everybody coming back and have some great players coming in this summer," Aldrich said.
Coach Bill Self acknowledged that the team could be special.
"I do think we return the best guard in the country and return the best big guy in the country," Self said. "If you are going to start a team, why not have an anchor and why not have a guard? That's two pretty good spots to start."
•
Henry update: Xavier Henry on Tuesday said in an ESPN.com chat that he and his brother, C.J., will visit Kentucky before choosing a school.
C.J. Henry is a 6-3 freshman guard at the University of Memphis; Xavier a 6-6 guard who has signed with Memphis. Both have been released from their letters-of-intent following John Calipari's decision to leave Memphis for Kentucky.
"We've never been out there (Kentucky)," Xavier said of he and his brother. "After that (visit sometime next week), we'll take a couple of days and probably make our decision."
Henry, who will play in the Jordan Brand Classic on Saturday in New York, said he and his brother will definitely attend the same school. C.J. will be a walk-on at KU or Kentucky. His education is paid for by the New York Yankees, who made him a first-round draft pick in the summer of 2005.
Xavier said the decisions of Collins and Aldrich would not impact his decision.
"It just helps to know that we'll have a good team if we go to Kansas," he said.
"There are a lot of things," he added of key factors in the decision-making process. "Me and my brother making sure we're happy where we're going. Keeping my family happy and keeping them together is what I'm basing my decision on."
Three of the Henrys will discuss recruiting a bit this weekend. C.J. and mom Barbara will be in New York to support Xavier at the Brand Classic.
Carl Henry, father of C.J. and Xavier, told Rivals.com on Tuesday he thought Memphis was not an option for the duo.
•
Wall update: John Wall, a 6-3 point guard from Raleigh, N.C., said in his ESPN.com chat he has a final list of KU, Memphis, Baylor, North Carolina State, Kentucky Miami, Duke, North Carolina and Florida.
"I don't know yet. It's pretty tough," Wall said, when asked when he'd pick a school.
ESPN believes Wall may explore entering the NBA Draft. He's considered to be in his fifth year of high school, meaning he may also be a year beyond the graduation of his high school class, thus eligible according to draft rules. If he enters the draft, the NBA would rule on his special case.
•
KU 22nd in recruiting: ESPN.com ranks KU's incoming recruiting class No. 22 in the country as the spring signing period begins. North Carolina is No. 1. Obviously KU's ranking will jump if the team lands Henry or Stephenson.
"If Kansas coach Bill Self is able to land one or more of the remaining unsigned All-Americans, look for this class to leapfrog into the top 10 and for Kansas to maintain its place as one of the premier programs in the country," ESPN.com assessed.
More like this story on KUsports.com