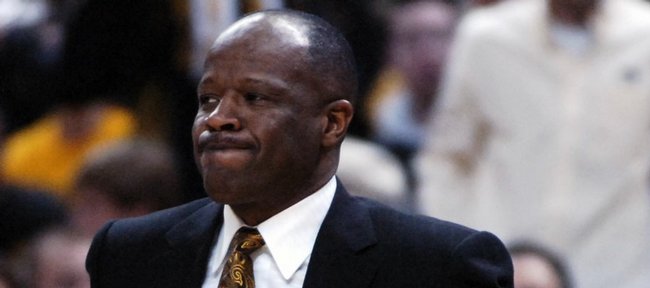 Columbia. Mo. — Mike Anderson has signed a seven-year deal to remain Missouri's men's basketball coach.
The third-year coach, who led the Tigers to a school-record 31 wins and snapped a five-year NCAA Tournament drought that ended just short of the Final Four, signed the new contract along with university officials Monday. The school released copies Tuesday.
"It gives us a certain level of confidence," athletic director Mike Alden said, referring to the long-term deals signed by both Anderson and football coach Gary Pinkel, who got his own hefty raise after a breakout 2007 season and now earns $1.85 million a year. "We have two of the best coaches in the country."
The contract pays Anderson a base annual salary of $1.35 million. That's a $500,000 yearly increase from his previous deal, signed when he was hired in 2006 to replace the ousted Quin Snyder.
Various incentives could boost his annual pay to as much as $2.1 million. But Anderson would reach that top amount only by winning a national title.
Anderson will earn an extra $200,000 annually in deferred income if he stays for at least four years, with another deferred payment after seven years. If he leaves for another job, Anderson or his new employer would have to pay Missouri as much as $550,000.
If the school fires Anderson, he would receive anywhere from $500,000 in 2016 to $1.35 million if he is terminated next year.
That sliding scale represents a reduction in the previous contract's severance package, which guaranteed Anderson $500,000 for each remaining year of the contract — a provision that raised the ire of several members of the university's Board of Curators three years ago.
Anderson will also receive an extra $121,0334 to disburse to his three assistant coaches and two other staff members. Those five employees now earn a combined salary of $478,686.
The revised deal makes Anderson the third-highest paid coach in the Big 12 Conference, behind only Bill Self of Kansas and Texas' Rick Barnes.
More like this story on KUsports.com