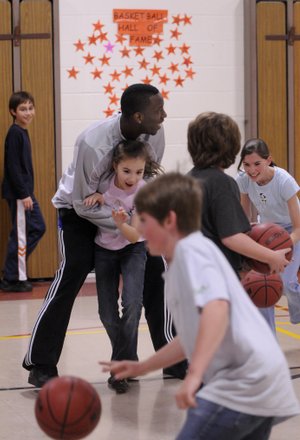 Basketball season may be over, but that is not stopping some Jayhawks from getting out into the Lawrence community and chatting with children at several area schools about the value of being physically fit.
Mario Little and Brennan Bechard joined Jason Bott's second-grade physical education class at Wakarusa Valley School on Monday to play basketball and learn some dance moves. Little said it is important to encourage children to trade the couch for the great outdoors.
"A lot of kids nowadays just want to sit and play games and eat and kind of be a couch potato at an early age," he said. "I don't think that's good. It's good to get out and exercise and run and play and be with your friends and just get good exercise."
Bechard enjoyed playing with the students while teaching them a lesson about being healthy.
"I think any opportunity you have to get out and talk to younger kids, you should do it — especially about being healthy and trying to stay fit," he said.
Bott says he thinks the Jayhawks are great role models for second-graders.
"Knowing that they're athletes and they work really hard and they stay in shape is a great way for the kids to stay motivated — not just in P.E. or that day's P.E. class but, hopefully, throughout their life."
More like this story on KUsports.com