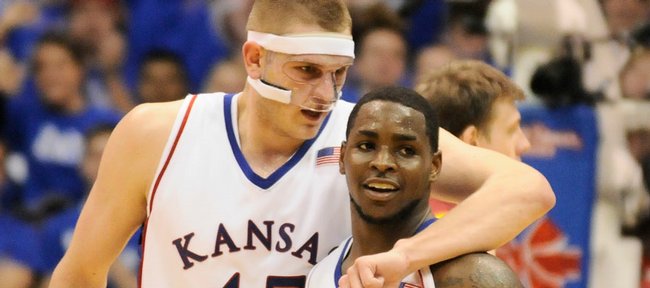 Tonight could be a huge night for Kansas University's men's basketball program.
Relatives of Cole Aldrich and Sherron Collins on Sunday night strongly hinted to the Journal-World that the two standouts will make statements about their future at the sold-out postseason KU hoops awards banquet, set for a 7 p.m. start at the Holidome.
Collins' uncle, Walt Harris, and Aldrich's dad, Walter Aldrich, strongly hinted that the two Jayhawks will reveal that they'll be returning to KU instead of entering the 2009 NBA Draft.
"(The year) 2008 could be 2010. That's all you are going to get out of me," Collins' uncle said Sunday night.
Uncle Walt admitted that was his way of saying the Jayhawks after tonight could be fully equipped to make a run for the 2010 national crown, as they did in '08.
"Are you smiling now?" Walt Harris added with a laugh, offering another hint.
He indicated Collins' mother, brother and aunt would be at the Holidome tonight for what could be a special occasion.
Meanwhile, Aldrich's dad, Walter, responded, "I would say, yes," asked if he believed Cole would reveal his future plans to the banquet crowd.
And what would Cole's decision be?
"I know what it is. I think you know what it is," Walter Aldrich said good-naturedly.
The Journal-World and St. Paul Pioneer Press both recently quoted Walter Aldrich as saying Cole "probably" would be back for his junior campaign.
Walter Aldrich and his wife won't attend the banquet.
"We can't make it," he said. "Hopefully they'll videotape it and we can watch it later."
Draftexpress.com has indicated for some time that Collins and Aldrich would be returning to KU. ESPN.com and other sites also have heard no buzz about the two seriously considering entering the draft. Draftexpress.com lists Aldrich the fourth overall pick and Collins No. 22 overall in the 2010 Draft. It's believed Aldrich would be a first-rounder, Collins a second-rounder if they entered the 2009 Draft.
More like this story on KUsports.com