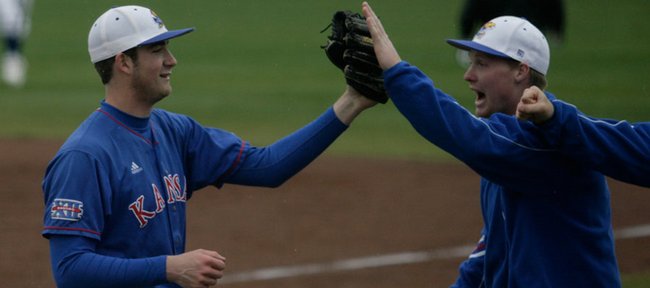 For five innings of the Kansas University baseball's team's matchup with visiting Oklahoma State on Sunday, Lee Ridenhour had done so well.
For five innings, the freshman right-hander had stood on the mound at Hoglund Ballpark and — despite suffering from a brutal bout of food poisoning he'd had since Friday night — managed to gut through what would end up being a 4-3, extra-innings victory over the No. 17 Cowboys.
For five innings he had been nothing less than stoic.
But then the sixth inning rolled around, and, well ...
"Throughout the fifth inning he was doing good," Kansas coach Ritch Price said, smiling. "And then he came in here and just lost (his lunch)."
His early retirement to the clubhouse bathroom notwithstanding, however, Ridenhour turned in another standout performance against a ranked opponent, giving up just one run on seven hits in five innings and laying the foundation for Kansas' fifth straight victory.
Conditions Sunday afternoon were not exactly inviting, with temperatures dipping into the 40s and a cold drizzle falling throughout the game, but the few fans who weathered the storm were rewarded for their moxie.
The Jayhawks scored two runs in the bottom of the 10th inning to overcome a 3-2 deficit and put the finishing touches on their first sweep of the Cowboys since 1993.
And for a team that has been on the wrong end of a number of close games this season — nine of the Jayhawks' 12 losses have come by two runs or less — Sunday's outcome was an especially welcome development for Kansas.
"We go out there in these type of games, and we feel like we should win every single one of them," said third baseman Tony Thompson, who finished 2-for-5 and extended his hitting streak to 12 games. "We go out there in the final innings of the game and have a little swagger ... and hopefully we'll win a few more like that."
Despite being outhit, 14-9, the Jayhawks (23-12 overall, 7-5 in the Big 12) outplayed OSU throughout much of the game thanks to a solid outing from the bullpen and a late-game rally in which they capitalized on several miscues by Cowboys reliever Randy McCurry.
After David Narodowski singled with one out in the bottom of the 10th inning, McCurry walked Robby Price and hit two consecutive batters, allowing the tying run to score and loading the bases for Thompson.
With the outfield pulled in, Thompson then singled over the head of Oklahoma State left fielder Neil Medchill to score Price for the game-winning run.
Kansas catcher Buck Afenir finished 2-for-4 with three RBIs, and reliever Brett Bochy picked up the win, striking out six in three innings despite giving up a run in the top of the 10th that allowed the Cowboys to pull ahead, 3-2.
Meanwhile, Kansas' recent play has raised a legitimate question about the team's national status: Having jumped to fourth overall in the Big 12 — and having swept two of the nation's best teams — what more will it take for the Jayhawks to earn inclusion in the Top 25?
"The position that we're in now, if we come out and have another couple good weeks, I think we'll move into the Top 25," said Ritch Price, whose team will travel to Creighton for a nationally televised game (CBS College Sports, Sunflower Broadband Channels 143, 235HD) at 6:30 p.m. Tuesday. "In all honesty, we probably deserve to be there right now with the schedule we've played and the success that we've had.
"But where we're at in the Big 12 conference is more important. Our RPI is good enough right now where if we played it out the rest of the way (like we have), we'd make the NCAA Tournament. And to me, that's more important than being ranked in the Top 25."
More like this story on KUsports.com