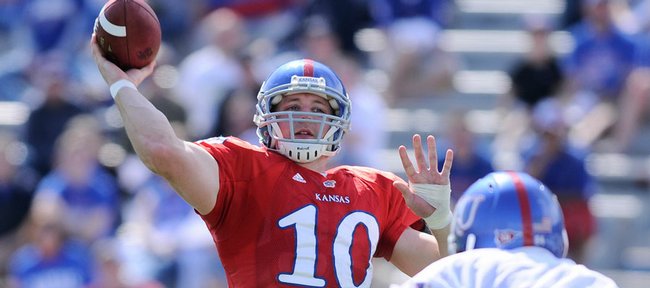 Generally speaking, the Kansas University football team's annual Spring Game does not involve a great deal of drama.
The rules (and teams, for that matter) are loosely enforced. Players are going against players and schemes they've seen countless times before. And, as coach Mark Mangino himself points out, the event is really nothing more than a glorified practice.
Saturday, however, thanks to the notorious absences of two of the team's most prominent players, the game's usual low-key nature was put on hold.
Junior receiver Dezmon Briscoe and senior running back Jocques Crawford, two players who figured heavily into the team's offense during the 2008 season, did not play Saturday and did not appear present at Memorial Stadium during the team's annual Spring Game.
Shortly after the game concluded — a 20-7 victory by the team's first-string Blue squad — it came to light that Crawford, a highly touted running back set to begin his second year in the program, might not be part of the Jayhawks' lineup much longer.
Citing what he called multiple violations of team rules in a short period of time, Mangino told reporters that Crawford has been suspended indefinitely, while the coach left open the possibility of a permanent dismissal from the team.
"He will not participate the rest of spring," Mangino said. "I just don't know his status. I'll be honest with you: I don't know … whether he'll be back or not."
Asked if Crawford's suspension was related in any way to an incident that occurred last weekend in which KU offensive lineman Ben Lueken was hospitalized after being struck by a vehicle on the KU campus, Mangino declined comment.
"There's an investigation that's pending," he said, "and I can't speak to that at the present time."
Briscoe, meanwhile, represented the team's other notable no-show, although the level of immediacy in his case seemed considerably lower.
As previously reported, Briscoe, a second-team All-Big 12 selection as a sophomore last season, was held out of the majority of spring practice for a violation of undisclosed team rules. Mangino said he would meet with Briscoe on Monday to discuss the player's status with the team, but that a number of requirements would have to be met before the receiver would be reinstated.
"When he has those tasks completed, when he meets all the guidelines that I set for him, I'll reinstate him," said Mangino. "But not until then."
So, yes, that was how the spring game concluded for the Kansas Jayhawks.
However, the game served its purpose: providing Kansas' coaching staff with an extended evaluation day following a monthlong session of practice.
In the first glimpse of the 2009 version of the Kansas football team (minus the majority of the 2009 recruiting class), the team's annual spring scrimmage provided football-starved fans a brief taste before next fall, while ending the way one might imagine a game between the team's first-string (Blue Team) and second-string (White Team) players would go.
The Blue team — led by quarterback Todd Reesing and the majority of the rest of the team's starting lineup from 2008 — scored early and often, building a 17-0 lead by the time the first quarter had ended.
A few suprises emerged. Newcomes Jake Schermer (linebacker) and Greg Brown (cornerback) each finished with eight tackles, while Crawford's absence opened the door for receiver-turned-running back Rell Lewis, who rushed for a game-high 66 yards on 14 carries while playing primarily with the White team.
But mostly it was business as usual for a team that returns nearly all of its skill-position players from a season ago.
Reesing was predictably dominant, throwing for 221 yards and a touchdown in limited action. Running back Jake Sharp averaged nine yards per carry. And Darrell Stuckey, the leader of the Jayhawks' secondary, grabbed the game's lone interception in what most players called a productive afternoon.
"We're not ready to play our first game yet, but I'm not sure anybody is at this point," Reesing said. "I think we can take a lot of positives out of the spring."
At least one person, however, might have a little tougher time enjoying those positives.
Faced with the conundrum that is the intrasquad scrimmage — even when one of the units has success, it comes at the expense of another — Mangino grumbled jokingly about the task he has ahead of him in evaluating the game footage.
"Have you ever met a head coach that went home happy after the spring game?" he said. "Never. If it isn't one thing, it's something else."
More like this story on KUsports.com