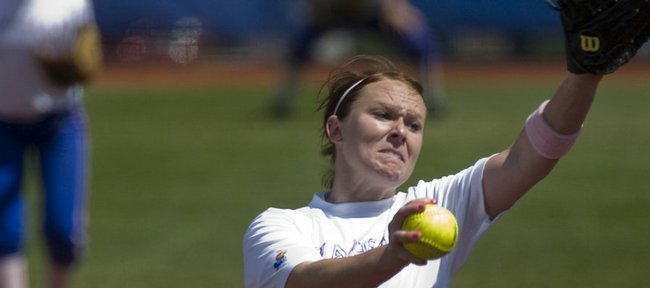 On Friday, Kansas University's softball team couldn't hit Oklahoma pitcher D.J. Mathis with cricket mallets.
On Saturday, however, the Jayhawks chased Mathis in the third inning on the way to a 4-2 triumph over the No. 13-ranked Sooners at Arrocha Ballpark.
"The game plan was to come out swinging and be on top," said Elle Pottorf who stroked a two-RBI double in KU's three-run second inning. "We were making her pitch in the (strike) zone and hacking at it."
Mathis had allowed just one hit in five innings during the Sooners' 8-0 run-rule rout Friday night.
"She didn't look nearly as sharp today," KU coach Tracy Bunge said of OU's senior left-hander. "And our kids did a better job. They weren't as passive."
Kansas came out of the chute quickly. In the first inning, Dougie McCaulley singled off the shortstop's glove, moved to second on a sacrifice, then stole third. After Liz Kocon was hit by a pitch, Bunge ordered a double steal, and when the catcher's throw sailed into center field, McCaulley scored.
"That inning changed our mind-set," Bunge said. "It put the kids on a different plane than they were yesterday."
In the second frame, singles by Amanda Jobe, Stevie Crisosto and Sara Ramirez gave the Jayhawks a 2-0 lead. Moments later, Pottorf clubbed a shot just inside the third-base line that scored two more.
"With two outs, Pottorf got a big, big hit for us," Bunge said.
Meanwhile, Val George was cruising in the circle. The senior right-hander, facing the Big 12 team batting average leader, didn't allow a hit until Samantha Ricketts' solo homer over the right-field fence in the fourth.
Oklahoma scored again in the fifth on a triple and a single, but George escaped the jam and retired the Sooners 1-2-3 in the sixth.
The seventh inning wasn't that easy, however … not at all.
Oklahoma sandwiched a pair of singles around an out, then Haley Anderson lofted a lazy fly ball to center for what appeared to be the second out. But the ball dropped.
"I lost it in the sun," McCaulley said, "but Georgie picked me up."
And how. With the bases now loaded and with just one out, George fanned pinch hitter Jeannie Douglas, then whiffed Evan Sallis to end it.
"It was just adrenaline, I guess," George said. "I was determined to get out of this.
Asked if she had considered hooking George, Bunge confirmed she had two relievers ready to go, but decided to stick with her only senior hurler.
"If she looks like she has enough gas," Bunge said, "you want the ball in her hands."
Kansas climbed to 14-23 overall and 4-6 in the Big 12. Oklahoma dipped to 31-13, 8-4.
Notes: KU officials announced they had raised $1,700 for cancer research during the Jayhawks For a Cure game, in which both teams wore pink uniforms. … George (9-11) posted her fourth win over a Top-25 team this season.
More like this story on KUsports.com