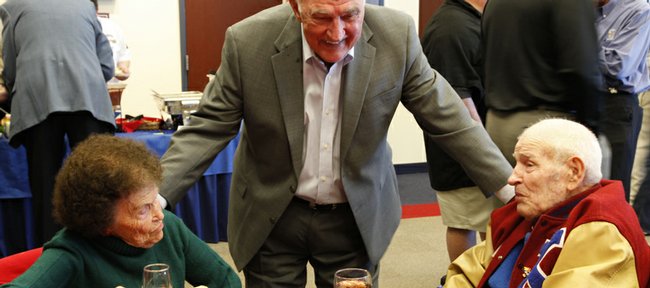 Perhaps the greatest testament to the progress enjoyed by the Kansas University football program is this: Even at an event held primarily to celebrate the past, talk was never far from the future.
During a reunion of former KU players Friday evening at the Anderson Family Football Complex, held as a precursor to today's 2 p.m. Spring Game, old-timers (and some not-so-old-timers) congregated to trade stories and jokes and back-slaps.
But in the middle of a stretch in which the Jayhawks seem to have established themselves as consistent conference contenders — last season the football team qualified for back-to-back bowls for the first time in school history — the legacies spent a good deal of time discussing the prospects of a once-downtrodden program.
"It's a transformation, man," said Willie Amison, a former wing back who played on the 1969 Kansas team that played in the Orange Bowl. "There's been great years, but to have the consistency we've had has been truly great."
No doubt spurred on by the excitement currently surrounding the program, the dozens of players on hand dined together and were treated to a tour of the team's new $31 million football complex.
The guests ranged from the recently departed (James Holt) to the longtime veteran (Don Fambrough) and everyone in between — individuals who, in many instances, couldn't have imagined the makeover the program has undergone in recent years.
And perhaps no one was more qualified to speak to the program's current state than David Shirk. A 94-year-old Lawrence resident, Shirk captained the Jayhawks as a weak-side end in 1938, before things like multimillion-dollar facilities and the spread offense were staples of the college game.
"Our defense (back then) was, 'Get the man with the ball,'" Shirk said.
Yes, a lot has changed since then. The facilities. The personnel. And not least of all, the elevated interest in a Kansas program that once took a distant back seat to the one that calls Allen Fieldhouse home.
"It's the best it's been since I've been around," Dave Aikins, a KU lineman in 1968-69, said of the state of the program. "You always hoped, but it'd get started and then fizzle. But the whole athletic department has stepped up."
More like this story on KUsports.com