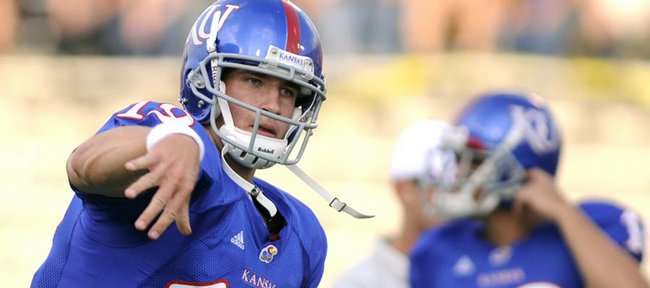 Reader poll
Yes

40%

103 votes

No

9%

23 votes

I would, but I live too far away

47%

120 votes

I live too far away, but wouldn't go even if I lived closer

3%

9 votes
255 total votes.
As a general rule of thumb, it is wise not to read too much into the outcome of a collegiate spring football game.
Coaches generally limit their playbooks significantly. Players are going against teammates (and schemes) they know inside and out. And most of a program's newcomers — some of whom likely figure prominently into the team's immediate plans — haven't yet arrived on campus.
But the Spring Game is also an event built on possibility: a time in which hope springs eternal and just about anything — for the moment, at least — seems possible.
With that in mind, here are 10 things that, were they to occur during the Kansas University football team's Spring Game at 2 p.m. Saturday, would bode quite well for the Jayhawks entering the 2009 season.
1. Kale Pick proves to be a capable No. 2 quarterback.
In what will be Kansas fans' first extended exposure to Pick, the red-shirt freshman out of Dodge City will attempt to establish himself as a clear-cut No. 2 quarterback — and a good showing would be encouraging for two reasons.
First, it likely would provide Kansas coach Mark Mangino with enough confidence to move back-up quarterback Kerry Meier to receiver full-time, something the coach has been hesitant to do until he feels comfortable with Pick's progress.
Second, and more obviously, it would represent a good sign for the Jayhawks' chances of maintaining the level of success they've established with Todd Reesing at quarterback.
2. Angus Quigley looks like a natural at linebacker.
It became clear during the 2008 season that Quigley's future at Kansas was not at running back, but the jury's still out on his chances to contribute at linebacker. Having switched positions just before last year's Insight Bowl, Quigley is still in the process of learning the position's nuances, although the departure of all three of the team's starting linebackers from '08 could provide the 6-foot-2, 222-pound Quigley with an opportunity to contribute in what could be his final college season.
"It looks like he's put his heart and soul into it," Mangino said of Quigley's switch to linebacker. "And if he has, there's a good chance it could work out. It'll be up to him."
3. Dezmon Briscoe is on the field.
After being held out most of spring practice for an undisclosed violation of team rules — although he reportedly has practiced at least once so far this spring — Briscoe's participation in the Spring Game would be sufficient evidence that the ultra-talented receiver has smoothed things over with Mangino. While Kansas features a number of promising receivers, none is quite like Briscoe, who caught 92 passes for 1,407 yards and 15 touchdowns as a sophomore. A standout '09 season from Briscoe will be key if the Jayhawks hope to battle for a Big 12 North title next season.
4. A.J. Steward establishes himself as a viable pass catcher from the tight end position.
Having spent last season learning the tight end position after a switch from quarterback, Steward could be ready to contribute in '09. At 6-4 and 228 pounds, Steward is a physical specimen, and if he's able to make catches in traffic on Saturday — and next fall, as well — he would provide a nice compliment to Tim Biere, a sophomore-to-be known more for his blocking.
5. A good performance by at least a couple of untested guard candidates.
It's no secret that defenses, thanks to their vast knowledge of various sets and schemes, have a marked edge over their offensive counterparts during spring games. So an encouraging showing by the new members of Kansas' interior offensive line would be especially promising.
Losing Adrian Mayes and Chet Hartley to graduation stings, but there appear to be a number of candidates ready to step in. The two guard candidates with perhaps the highest ceilings are Trevor Marrongelli and John Williams, who likely will battle for a starting position next season.
6. Calvin Rubles makes life difficult for Jayhawks receivers.
Rubles, a cornerback, is one of just four players in the Jayhawks' most recent signing class to be on campus already, and the junior-college transfer potentially could add depth to a secondary that struggled at times last season.
Mangino has spoken highly of Rubles, who attended the same high school as ex-Jayhawk and current Tampa Bay Buccaneers defensive back Aqib Talib.
"We need to be very good at the corner position," Mangino said. "Bringing Calvin Rubles in, we think, will help us."
7. A glimmer of hope from the kickoff-return position.
Perhaps Kansas' most glaring weakness last season came in its inability to return kicks. The Jayhawks ranked 118th (out of 119 Div. I teams) in the nation in kickoff returns, and Saturday's game should provide coaches the opportunity to evaluate younger players as potential candidates for the job.
Without an alternative, however, Mangino might feel pressure to use Briscoe at kick returner as he did at the end of last season. Briscoe excelled in his limited time at the position — he returned seven kicks for 195 yards in a victory against Missouri — but it would be risky business subjecting such a valuable commodity to the possibility of injury.
8. Jeremiah Hatch's transfer to center goes off without a hitch.
After spending his freshman season at left offensive tackle, Hatch, a sophomore-to-be, will take over for Ryan Cantrell at center, a position Hatch is familiar with after playing it throughout his time at Dallas' Carter High. Cantrell was a two-year starter at KU, and last season earned honorable mention All-Big 12 honors, but Hatch's size (6-3, 311 pounds) and talents leave coaches confident in his ability to anchor the offensive line.
"We think that will improve our offensive line tremendously," Mangino said.
9. Hawkinson shows flashes at left tackle.
Hatch's switch to center leaves a hole at left tackle, and Kansas coaches felt good enough about the potential of red-shirt freshman Tanner Hawkinson to switch him from tight end to left tackle as a possible replacement.
Mangino has had significant success with position switches in the past (see Meier, Talib and Charles Gordon), and it'll be interesting to see how much playing time Hawkinson receives Saturday — as well as how much progress he has made in the past weeks. Asked about Hawkinson's perceived lack of size — he's listed at an underwhelming 245 pounds — Mangino smiled.
"You haven't seen him lately," he said.
10. The team gets through the day in one piece.
All signs seem to point to a successful 2009 campaign for the Jayhawks: limited losses on both sides, the return of nearly every skill-position player, a quarterback set to begin his third season as a starter.
But all the promise in the world can be washed away instantly with an untimely injury, and Kansas coaches obviously hope Saturday's game goes by without a significant setback.
More like this story on KUsports.com