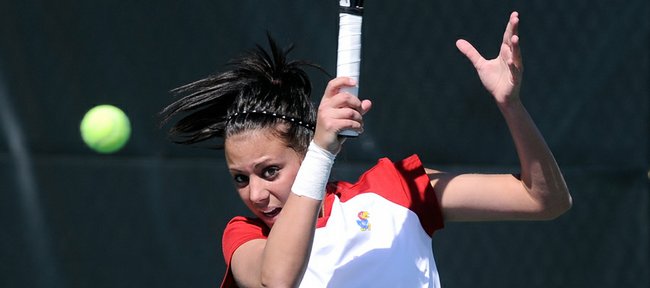 Ekaterina Morozova and Yuliana Svistun were double winners as Kansas University's tennis team routed Kansas State, 5-2, in the Sunflower Showdown on Wednesday at First Serve Tennis Center.
Morozova beat Mariya Slupksa, 6-3, 6-3, at No. 2 doubles, and teamed with Edina Horvath for a 6-3, 3-6, 10-7 victory over Antea Huljev and Nina Sertic at No. 1 doubles.
Svistun beat Sertic, 6-4, 6-1, at No. 3 singles, and teamed with Kunigunda Dorn for an 8-4 victory over Petra Cuda and Vanessa Cottin at No. 3 doubles.
KU improved to 9-10 overall, 4-5 in the Big 12.
Maria Martinez and Erin Wilbert also claimed singles victories for the Jayhawks (9-10 overall, 4-5 Big 12).
More like this story on KUsports.com