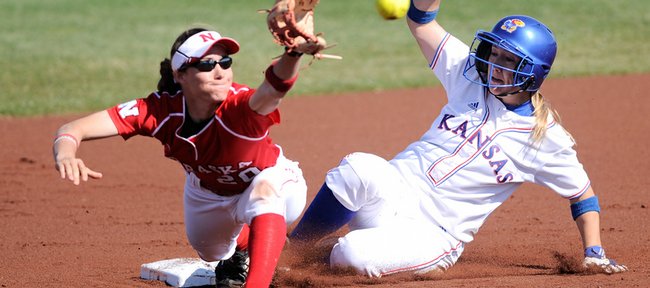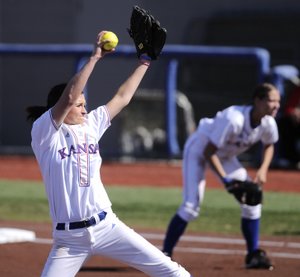 Yogi Berra was right. It really isn't over until it's over.
Elle Pottorf offered further proof when her two-run single helped Kansas University divide a softball doubleheader with Nebraska.
Pottorf's seventh-inning safety enabled the Jayhawks to post a 2-1 victory after the Cornhuskers had captured the opener, 4-0, Wednesday at Arrocha Ballpark.
"That was a huge, huge, huge hit for Elle and for the team," KU coach Tracy Bunge said.
Until Pottorf's bases-loaded liner with one out in the bottom of the do-or-die frame, the Jayhawks had waved a white flag at NU senior right-hander Molly Hill.
Hill tossed a route-going two-hitter in the opener and had blanked KU on two hits through the first six innings of the nightcap.
After 13 goose eggs in a row, the Jayhawks' situation looked grim.
But senior second baseman Sara Ramirez led off the seventh with a hard grounder up the middle, and Hill was hooked in favor of Ashley Hagemann, who enticed an out, but then gave a solid line single to left to Val Chapple.
That was it for Hagemann. Back to the circle came Hill, who proceeded to walk Liz Kocon to load the bases. Moments later, Hill had Pottorf in an 0-2 hole, but the fifth-year senior catcher delivered the clincher to salvage the split.
"I was just trying to cut my swing down and poke it through the infield," Pottorf said.
Senior right-hander Val George earned her first circle victory in her last six starts by tossing a five-hitter.
"We needed a big game from her, and we got it," Bunge said. "She's had some physical issues, but she toughed through it."
George said she has been pitching with tightness in her left thigh.
"We have five more weeks (in the season)," she said, "and I just decided I'm going to pitch through the pain."
It's no secret this has been a painful season for the Jayhawks. Despite a roster loaded with veterans, KU's record is 13-22 overall and 3-5 in the Big 12.
"We really needed this," Bunge said. "It was nice to see some seniors come through and have big moments."
It may be too late in the season to suggest Wednesday's emotional victory was a turning point, but the Jayhawks' chins should be a lot higher going into this weekend's home series with Oklahoma.
Friday's game had been scheduled for 7 p.m., but was moved to 4 p.m. because of the threat of rain.
More like this story on KUsports.com