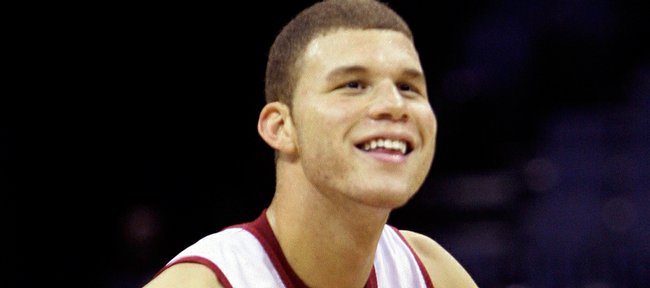 Norman, Okla. — Oklahoma forward Blake Griffin will give up his final two years of eligibility and head to the NBA after a sophomore season that ended with him being recognized as college basketball's top player.
Griffin announced his decision Tuesday at a campus news conference alongside coach Jeff Capel, saying it was time to take his game to the next level.
Griffin helped the Sooners win 30 games in a season for only the fifth time in school history, shattering the school records for double-doubles and rebounds along the way.
"It's tough to walk away from something like this but at the same time, it's a big opportunity and I felt like I was ready for it this year," Griffin said.
After declaring last year that he would stay at Oklahoma for at least one more season, Griffin said he wanted to be able to contribute immediately in the NBA before he would turn pro.
For him to feel like he was "100 percent sure" that he was ready, he said he'd probably have to be in line to be the No. 1 pick in the draft.
Griffin couldn't have done much more to make his case for that spot.
He was honored by The Associated Press and several other groups as college basketball's player of the year after leading the nation with 30 double-doubles and 14.4 rebounds per game while also averaging a Big 12-best 22.7 points.
In the NCAA Tournament, he was even better — averaging 28.5 points and 15 rebounds to lead the Sooners to the regional finals, where they lost to eventual national champion North Carolina.
More like this story on KUsports.com