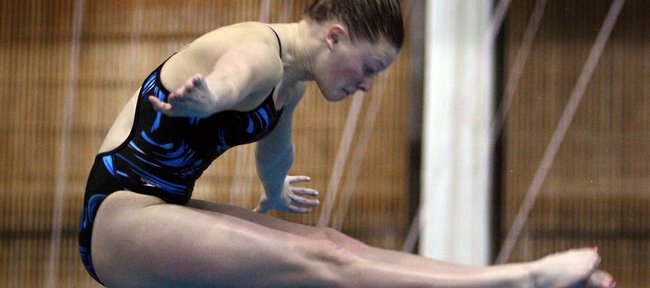 As ecstatic as Kansas University diver Erin Mertz was to qualify for this season's NCAA swimming and diving championships — and she was very much ecstatic — she couldn't help but dwell on the one drawback that comes with establishing yourself as one of the nation's finest aquatic performers.
"It meant I wasn't getting a spring break," said Mertz, a sophomore from Omaha, Neb. "So I was a little bummed."
Any disappointment that might have lingered heading into the College Station, Texas-based meet, however, was quickly dispelled. In a display that surprised even herself in the March championships, Mertz sprung to a seventh-place finish on the one-meter board, becoming the program's first athlete in over a decade to earn all-American honors and the first Jayhawks diver to do so since 1996.
"Obviously I wouldn't have recruited her if I didn't think she had the ability to be a great diver," said Kansas diving coach Eric Elliot. "But to go into a competition like that, with the level of competition that was there, and do what she did, that was awesome."
In truth, Mertz had been happy just to qualify for nationals, something she had failed to do as a freshman. But after a strong performance in the preliminary round, during which she tallied 284.35 points to place seventh overall, she found herself heading to the finals — where she scored a season-best 298.4 points and narrowly missed a sixth-place finish.
Before the weekend was over, she'd also managed a 19th-place finish on the platform board to finish the competition as the Jayhawks' most successful performer.
The perks of Mertz's recent outing, meanwhile, have been numerous. A "cool" trophy, membership into an exclusive club (only three KU divers have ever earned all-American honors) and a handwritten letter of congratulations from Kansas athletic director Lew Perkins.
It also helped validate the daily grind she endured in the preceding months, an around-the-clock regimen that, Mertz said, could be mentally draining throughout the course of the year.
"You get really tired after awhile," said Mertz, who grew up a gymnast before a knee injury forced her out of the sport. "You kind of get down. There's a couple weekends where you really have no life at all, when you're literally just swimming and sleeping and eating. And you're really not doing what you enjoy, like hanging out with your friends.
"But this meet just makes it all worth it."
Perhaps the most encouraging aspect of her performance was the fact that Mertz was able to accomplish such a feat in just her second year in the program.
And with another two years to build upon her recent success — and shore up any minor flaws in her current form — she and the team's coaching staff will likely enter next season with a happy premonition.
"You're just like 'Holy cow,'" Elliot said of Mertz's early success. "It's her first trip here and we get a kid in the finals. It was kind of like 'Wow'. You know if they dive the best that they can they can be successful, and Erin did that."
More like this story on KUsports.com