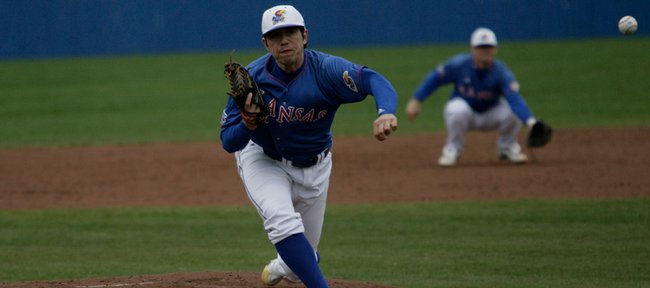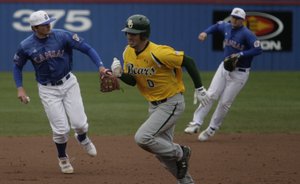 Wind whistled and whirled in all directions on an unusually wacky Sunday afternoon at Hoglund Ballpark.
The only direction in which the wind failed to blow was back into the ballpark.
That meant a hitter's paradise and spelled trouble for Kansas University's normally steady pitching staff, which got waxed, 21-9, in the rubber match of a three-game series against No. 7 Baylor.
"It's definitely one of the most unique days I've seen a baseball game played in," KU coach Ritch Price said.
Winds ripped through the stadium in excess of 30 mph to left, center and right field during various portions of the contest. The relentless force was so bad that KU starter Lee Ridenhour — who had allowed two home runs all season — surrendered back-to-back dingers in the first inning alone.
It was a sign of things to come.
Baylor produced 20 hits and clubbed a school-record-tying eight home runs, including three from shortstop Shaver Hansen, as Kansas gave up its most runs in seven years.
"They were hitting some balls pretty hard," KU third baseman Tony Thompson said. "Our offense in some situations didn't get it done, but it's really hard to play in those conditions."
The Bears twice batted around in the game — during a four-run third and a five-run sixth — in what became a three-hour, 25-minute marathon of wind-aided poor pitching performances by the Jayhawks.
Six of KU's seven pitchers allowed at least one run to score. The only Kansas pitcher who prevented Baylor from scoring, freshman Kelson Boyer, faced just one batter in the ninth inning.
"There's no sense in beating your players up or saying something that you would embarrass yourself later because the reality is our pitching's been fabulous all year long," said Price, whose team entered the day with the second-best earned-run average (3.43) in the Big 12.
Lost in the blowout defeat were some fairly impressive offensive numbers by the Jayhawks. Kansas (18-12, 4-5 in Big 12 play) pounded out 14 hits, with three from Thompson, three from designated hitter Casey Lytle and two from catcher Buck Afenir.
But while Baylor (20-8, 7-5) was busy knocking the cover off the ball, Kansas managed just one home run, a three-run shot by Thompson in the sixth that trimmed the deficit to 11-9.
Baylor's offensive output was so impressive that when Bears starting pitcher Willie Kempf left after 52⁄3 innings and nine runs allowed, he still was in line for the victory.
"I didn't think we were going to have to score 22 runs to win," shortstop James Stanfield said. "That's just how it happened."
Kempf earned the win, while KU reliever Travis Blankenship took the loss.
Of all the wild statistics to emerge, perhaps the zaniest was this: Baylor relief pitcher Craig Fritsch received credit for a save in the 12-run shellacking.
Fritsch entered the contest in the sixth with his team ahead just 11-9 and pitched the minimum three innings required to pick up the save in that situation.
More like this story on KUsports.com