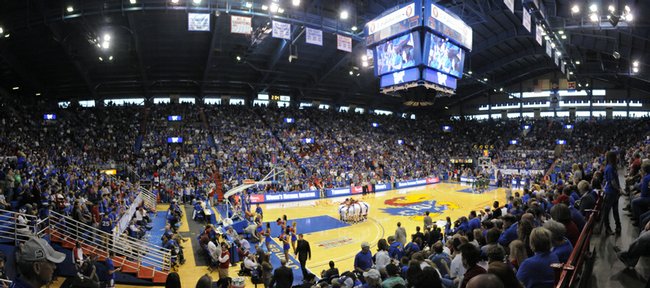 Audio clips
2009 WNIT championship
It might have been a different basketball team in a different tournament from what most Jayhawk fans were accustomed to cheering for this time of year. But that didn't stop a huge crowd from pouring into Allen Fieldhouse on Saturday afternoon to watch Kansas University play the University of South Florida in the championship game of the Women's National Invitation Tournament.
"This is such a basketball-crazy town. So if anyone is going to be playing basketball in Allen Fieldhouse in April, people are going to come," said KU junior Todd Brown, who was sitting just a few seats below the rafters.
And come they did. A total of 16,113 fans piled into Allen Fieldhouse, setting a record for both attendance at a KU women's basketball home game and single-game attendance for the women's Big 12 Conference.
The crowd had all the trappings of a men's basketball game with giant cardboard cutouts of the players' heads, a boisterous student section that turned newspaper into confetti during starting lineup intros and cheering that tipped into the triple-digit decibel range.
"It's amazing, I would have never thought it could be this packed for a women's game," said Lexi Smith, a guard on Free State High School's basketball team. "I thought it was cool for the women to be in the WNIT let alone the championship game."
For Alicia Elliott, Saturday was her first time at a KU women's game. She brought her family from Topeka.
"I thought it was exciting and I wanted to come out and support them," she said.
It definitely wasn't Diana Huseby's first time. Fifteen years ago, she would bring her children to the women's games when they played on Saturday mornings. For the championship game, she had her four granddaughters and niece, who had decorated signs.
"I played basketball when I was a girl and I think they are as amazing as the guys," she said.
Before the game, Carrie Mayhew was in the east lobby pointing out pictures from her days on KU's Track and Field team in the early 1970s. She's a die-hard men's basketball fan, but said it was nice to see the women's team in the spotlight.
"It's the women's turn. They never get that much attention," she said.
The fans left Allen Fieldhouse disappointed with the Jayhawks' 75-71 loss to the Bulls. Waiting to greet the players after their defeat was 17-year-old Emma Kruger, a forward for Eudora High School's basketball team. She started following the team she describes as "like a second family" four years ago. This season she's missed just one home game.
"This has never happened in the school's history. This was a great accomplishment," Kruger said. "Hopefully, next year they can just build on it."
More like this story on KUsports.com