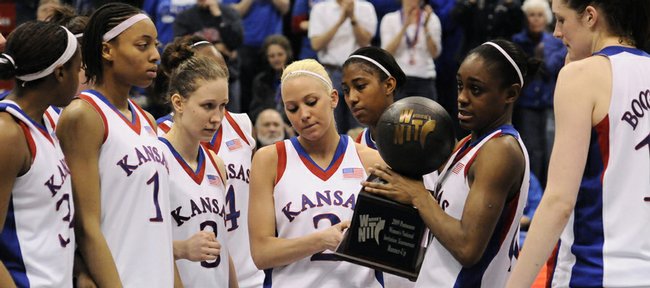 Audio clips
2009 WNIT championship
Everybody has a bad day at the office now and then. Danielle McCray had one Saturday.
"It's just frustrating," McCray said of her sub-par shooting in Kansas University's 75-71 loss to South Florida in the WNIT championship game.
McCray scored 24 points, but the Jayhawks' go-to player missed 18 of 25 shots. The 5-foot-11 junior even missed a couple of free throws, also rare for her.
"I'm not begrudging Danielle," KU coach Bonnie Henrickson said. "She's been a monster down the stretch. We needed some other people to step up."
McCray had been monstrous indeed during the previous three WNIT outings — hammering Arkansas for 35 points, humbling New Mexico with 32 and hurting Illinois State with 31 in Wednesday's semifinal.
But McCray is human, after all.
"It was bound to happen, I guess," she said. "Coming off 30, 30, 30. I'm just sad it happened tonight."
Twice during the regular season, McCray had similar shaky shooting nights in Allen Fieldhouse. She went 7-for-24 against Texas Tech and 6-for-23 against Oklahoma. The Jayhawks lost both games.
In KU's only other home loss prior to Saturday, McCray went 10-for-25 against Kansas State. So in the Jayhawks' four defeats in Allen Fieldhouse, McCray shot just 31 percent. During the first four WNIT games, she shot 54 percent.
Not that South Florida didn't play sound defense against the Jayhawks' leading scorer. At least three of McCray's shots were blocked, and she was hounded incessantly by the Bulls' Jazmine Sepulveda.
"Dee was taking good shots," teammate Ivana Catic said, "but they were physical, and I think they got her to play a little faster."
McCray missed eight of her first nine shots and 11 of 15 in the first half.
"Danielle was a little antsy early, but give (the Bulls) credit," Henrickson said. "I didn't think her rhythm was very good, and she rushed shots."
But McCray wasn't the only one out of sync. Double posts Krysten Boogaard and Aishah Sutherland were a combined 8-of-21 and missed a handful of stick-back attempts.
"That's as bad as we've shot for a long time," Henrickson said.
Only Sade Morris was immune from brick-itis. Morris was 7-of-13 from the floor and 5-of-6 at the foul line for 19 points. Sutherland wound up with 12 and Boogaard 10, but the other Jayhawks managed only six points combined.
Despite their shooting woes, the Jayhawks were within a point with 21⁄2 minutes left when Boogaard flipped in a left-handed shot underneath to slice the Bulls' lead to 67-66.
"We were in the game," Morris said, "and we said, 'All right, get a stop, go down and score, get a stop, go down and score.'"
Instead, they didn't get stops, and they didn't count another basket until McCray swished a meaningless three-pointer at the buzzer.
"We didn't get enough stops," Morris said. "That killed us."
Adding to the Jayhawks' postgame mental anguish was the knowledge they had failed in front of 16,113 fans — the largest crowd ever to watch a women's basketball game in Allen Fieldhouse and, since KU's facility is the largest in the Big 12 (16,300), also the biggest crowd ever to witness a game in a conference arena.
"If there's anything good in this," Catic said, "it's that we packed the house, and even in the last two weeks that was far from realistic."
Kansas had, in fact, drawn crowds of fewer than 2,000 for its first two WNIT games against Creighton and Arkansas. Then the Jayhawks lured 8,360 for the Illinois State game and almost doubled that Saturday.
More like this story on KUsports.com