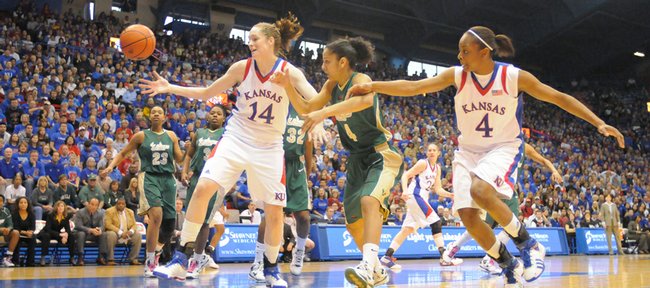 4:28 p.m.
Some final postgame notes:
• KU's Danielle McCray and Sade Morris both were named to the six-person WNIT All-Tournament team. USF's Shantia Grace was named the tournament's MVP.
• KU ended the year 22-14, its best finish since the 1998-99 season.
• The attendance of 16,113 was the largest home crowd in KU women's basketball history and also the largest single-game crowd in Big 12 women's history. The game had the second-highest attendance in WNIT history, trailing only the 2001 championship game between Ohio State and New Mexico at New Mexico.
• Danielle McCray set the WNIT single-tournament scoring record with 147 points. The previous record-holder was Wisconsin's Jolene Anderson, who had 129 points in last year's WNIT.
• KU set a WNIT record with 31 blocks in its five games.
• The Jayhawks went 9-3 in their final 12 games.
• KU's 21 offensive rebounds against USF were a season-high.
• The Bulls' 75 points were the second-most given up by the Jayhawks this season. Oklahoma scored 76 against KU on March 13.
• McCray scored at least 20 points for the 23rd time this season. She is now ninth on the KU scoring list with 1,539 points.
• McCray ended the season with 81 three-pointers made, a new school record.
• Ivana Catic ended her career fourth on KU's all-time assists list with 406. She had 43 assists and just seven turnovers in her final seven games.
KU scoring
McCray 24 (7-for-25 shooting), Morris 19 (7-for-13 shooting), Sutherland 12, Boogaard 10, Jacobs 4, Catic 2.
KU was 25-for-66 from the floor (37.9 percent), 4-for-12 from three (33.3 percent) and 17-for-21 from the free-throw line (81 percent).
USF was 26-for-58 from the floor (44.8 percent), 5-for-10 from three (50 percent), and 18-for-27 from the free-throw line (66.7 percent).
USF had 12 turnovers to KU's 11. KU outrebounded USF, 41-39.
FINAL: USF defeats KU, 75-71
Sepulveda once again comes through for USF. With the shot clock winding down, she swishes a 12-footer from the side to push USF's lead back to five. She's up to a team-high 18 points.
Morris is fouled on her way to the rim on the other end, but she misses her first free throw. She makes the second.
Lawson makes one of two free throws, and McCray misses a guarded three-pointer. KU's rally will come up short.
Grace puts in two more free throws, and McCray hits a meaningless three before the buzzer. The Bulls come away with a 75-71 victory.
USF 70/KU 67 — 51.4 seconds left in game
Sutherland hits her free throw, and the crowd seems to have gotten to USF. Stokes travels for an unforced turnover. On the other end, with the shot clock running down, Morris hits a huge two from the deep corner.
After a USF miss, McCray drives and drops it to Boogaard, who cuts the USF lead to one with a layup. This atmosphere right now is electric and every bit of what a men's crowd sounds like.
Following a timeout, Lawson puts in a guarded layup to put USF back up three.
Sutherland misses a jumper, and after a USF rebound, Lawson makes one free throw.
Sutherland answers with one free throw on the other end.
Lawson is fouled but misses both free throws. KU turns it over on the other end when trying to kick it out to Morris. She would have had an open three to tie it.
USF 67/KU 61 — 3:48 left in game
Sutherland rattles in another 15-footer, and she's hit some big shots lately for KU.
Boogaard is whistled for a questionable call underneath, as she was given a blocking foul when she was the one with inside position on a rebound. That's her fourth foul.
KU misses an opportunity on the defensive end. Twice, USF lost the ball, and twice the Bulls were able to regain possession. With one left on the shot clock, Stokes drained a scramble three-pointer to put the Bulls up 12.
McCray comes away with a steal, and she fakes a pass before putting in a layup.
KU's starting to pick up some steam. Catic hits a jumper from the free-throw line. The Jayhawks get another steal, and after two misses underneath, Sutherland puts in a short jumper with a foul. The fans go crazy, as KU has cut the lead to six at 67-61.
The announced crowd of 16,113 is a school and Big 12 women's basketball record.
USF 58/KU 49 — 7:57 left in game
KU starts to make a move at the free-throw line. McCray hits one of two. Boogaard, after drawing Jessica Lawson's fourth foul, hits two. McCray is fouled on a layup try, and her two free throws cut the lead to five.
USF scores the next six. Denson drives in for a layup, and after a steal, Sepulveda is fouled and makes two free throws. Grace finishes a quick move with a layup, and the Bulls lead by 11 once again.
With four fouls, Morris will checks back in at the 9:10 mark.
Sutherland lobs a nice pass to Boogaard, who finishes with a left-handed layup.
USF 51/KU 42 — 11:03 left in game
McCray hits a tough three from the top to cut USF's lead to six, but again the Bulls have an answer. Sepulveda picks off a lazy pass by Jacobs, and she takes it all the way to the other end for two.
The next possession, Sepulveda makes it look easy, driving quickly around Ivana Catic for a layup. USF is back up nine at 49-40, and Henrickson calls timeout.
Out of the break, Sutherland confidently hits a 16-foot baseline jumper, but USF's Lawson answers with a mid-range shot of her own.
USF 44/KU 36 — 15:13 left in game
The Bulls pick up where they left off in the second half. Grace hits two free throws, and after an offensive rebound, Jessica Lawson goes under the basket and reverses in a layup to increase USF's lead to 42-30.
Morris puts in a long jumper for KU, then beats USF in transition, getting fouled on her way to the basket. She hits both freebies.
Boogaard keeps getting good position inside, but she can't get anything inside four feet to go down. She's just 2-for-8 today.
Morris rattles in another short shot. She has all six KU points this half.
KU scoring
McCray 10 (4-for-15 shooting), Morris 10, Boogaard 4, Jacobs 4, Sutherland 2.
KU was 13-for-38 from the floor (34.2 percent), 2-for-7 from three (28.6 percent) and 2-for-2 from the free-throw line (100 percent).
USF was 14-for-28 from the floor (50 percent), 4-for-6 from three (66.7 percent) and 6-for-8 from the free-throw line (75 percent).
Both teams grabbed 20 rebounds. USF had eight turnovers to KU's six.
Halftime thoughts
• Bad shooting half for McCray. You have to think she'll heat up in the second 20 minutes. I would expect that she will have 30 shot attempts before this game is over.
• USF seems to be a streaky shooting team. Unfortunately for the Jayhawks, the Bulls made quite a few just before the end of the half. USF has made some tough, guarded shots, and I wouldn't anticipate that it will shoot 50 percent again in the second half.
• On the bright side, KU has done a good job of keeping possession of the basketball. The Jayhawks have had problems with turnovers this year, but they had just six in the first half. USF, meanwhile, had forced 20 turnovers per game coming in. KU had 10 more shot attempts in the first half, but the Jayhawks are going to have to hit a few more of the looks they get.
• Once again, great crowd here today. The only empty spots are way up in each corner. I would anticipate an announced crowd of around 15,000, which might even be enough to set a WNIT record.
USF 38/KU 30 — Halftime
McCray checks back in with just more than three minutes to go in the half. We'll see if she can make it to the break without picking up her third whistle.
Sepulveda throws in another three, and the Bulls are 4-for-5 from deep (80 percent).
Sutherland puts in a short jumper, but KU has gone cold as of late.
Meanwhile, USF has taken over the boards during this four-minute stretch. Grant gets a two after grabbing an offensive rebound, and USF has rebuilt a 34-30 lead.
USF's Brittany Denson gets two free throws, and the Bulls score again off an offensive rebound, as Grant gets another two.
KU executes well with two-tenths of a second left, throwing an inbounds pass lob to Sutherland for an alley-oop lay-in. The shot doesn't count, of course, because with three-tenths of a second or less, players have to tip the ball in.
USF ends the first half on a 12-2 run to take an eight-point halftime lead.
USF 28/KU 28 — 3:27 left in 1st half
McCray goes to the bench, but KU still takes the lead without her. Morris puts in two free throws before bouncing in a 15-footer, giving KU a 24-23 lead.
Jacobs drives down the lane and throws in another quick layup off the glass. Other players like Jacobs are going to have to step up in McCray's absence.
Morris drives in before hitting a tough, stepback, 15-foot jumper. USF seems to have an answer every time, as the quick-release shot of Shantia Grace swishes through to tie the score back up at 28.
USF 21/KU 20 — 7:32 left in 1st half
Following a nicely run inbounds play, Krysten Boogaard banks a five-footer off the glass and in. The made shot breaks a long KU drought.
Boogaard bounces in another shot on the next possession, and she seems to have jumpstarted KU's offense. McCray follows with a three, and she screams out in satisfaction. On the other end, Boogaard draws a charge, and the crowd has come back to life.
KU continues to miss a lot of chippies. Sutherland and Boogaard play keep away on the offensive boards, but neither can get a three-footer to go in. Sutherland misses three short ones and Boogaard misses a fourth. On KU's fifth offensive rebound of the possession, McCray bounces in a shot from the baseline.
McCray follows with an open three, and LaChelda Jacobs drives all the way to the basket to spin in a layup.
Bad news for KU, though, as McCray picked up her second personal foul. We'll see how long Henrickson sits her.
USF 16/KU 6 — 11:43 left in 1st half
South Florida plays a lot like Missouri's men's team, using a full-court press to speed teams up and force them out of their comfort zones. It's worked well so far. Though the Jayhawks have been able to beat the press, they have rushed themselves into turnovers on offense.
Jessica Lawson gets a layup, and after a USF steal, Janae Stokes puts in a short jumper to give the Bulls an 11-0 run. KU coach Bonnie Henrickson calls timeout.
KU isn't hitting any open jumpers. Aishah Sutherland clanks a 16-footer. McCray has started 1-for-9. The Jayhawks haven't scored in the last four minutes, 41 seconds.
USF 8/KU 6 — 15:48 left in 1st half
The decibel meter goes above 102 before the tip. There are easily 13,000 fans here and probably more.
Danielle McCray puts in the first points, hitting an unguarded jumper in the lane. South Florida's going to have to do a better job defending the honorable mention All-America selection if it wants to stay close.
McCray goes into a mini shooting slump after that, missing her next four shots. She's getting open looks but hasn't been hitting them. Lately, though, she's played better in the second half than the first.
USF's Jazmine Sepulveda has already drained both of her three-point attempts. She came into the game shooting 32 percent from beyond the arc.
12:49 p.m.
Welcome back to the Newell Post Live, coming to you from Allen Fieldhouse where the Kansas women's basketball team is getting set to take on the South Florida Bulls in the WNIT championship game.
I think this goes without saying: This is a big day for the future of the KU women's basketball program.
The Jayhawks will play in front of their biggest crowd of the season. As of now, two sides are full to the top here at the Fieldhouse. The corner sections are about three-fourths full, and there's still 20 minutes until gametime. I think it's safe to say there will most likely be a new attendance record set today.
I would guess this will be the first KU women's basketball game for about half the fans here.
Whether they come back next year has a lot to do with the Jayhawks.
With a victory, KU not only would take tons of momentum into next year, it also would add to its fanbase with an exciting postseason run.
Looking back, being held out of the NCAA Tournament and accepting a spot in the WNIT might be the best thing that could have happened for the Jayhawks.
It definitely will be if they can pull out a win today.