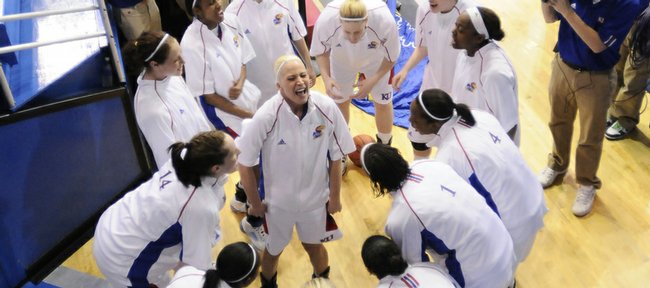 Attaching labels is often mere oversimplification. Not when it comes to Kansas University's women's basketball season, however.
The Jayhawks' run to today's WNIT championship game has a clearly defined beginning, middle and end.
KU opened with five straight wins, including an impressive 76-55 decision over a ranked Iowa team, on the way to capturing 11 of its 13 nonconference contests.
Optimism was high, but as had happened so often during coach Bonnie Henrickson's first four seasons, the Jayhawks struggled when conference play began, dropping nine of their first 11 Big 12 games.
So basically the Jayhawks' season can be lumped into three distinct parts: the 11-2 beginning, the 2-9 midseason funk and the resurgent 9-2 ride that will end today.
Who are these women who were so good so early, so bad in the middle and so inspiring at the end?
They're mostly seasoned players, predominantly juniors, yet minus a freshman Henrickson had been counting on. KU's fifth-year coach had projected Angel Goodrich, a ballyhooed newcomer from Tahlequah, Okla., as the point guard.
Then Goodrich tore an ACL in preseason practice and gloom hung over the program until the Jayhawks started winning nonconference games.
No doubt the signature player on Henrickson's fifth KU edition is Danielle McCray.
Some have dubbed the Jayhawks "Danielle and the Miracles," a play on the sobriquet "Danny and the Miracles" hung on the KU men's team that rode Danny Manning's shoulders to a surprising NCAA championship 21 years ago today.
The analogy fits because McCray has clearly been the catalyst of the five-week surge that has turned Kansas into a big blip on the national radar screen.
Who is McCray? She is a 5-foot-11 junior who boasts a rare combination of durability, strength, agility, intensity and shooting touch.
A highly touted recruit out of Olathe East High — and, incidentally, the lone Kansan on the roster — McCray was regarded as a talented player during her first two seasons, but she suffered from inconsistency and immaturity.
Those weaknesses began to disappear this season, but they didn't become a distant memory until the last month or so. During that span, McCray has been virtually unstoppable.
She became such a dominant player late that she earned an All-Big 12 first-team berth. And she's been even better since that announcement, averaging nearly 31 points a game during the Jayhawks' four WNIT contests.
A communications major, McCray hopes to become a computer programmer after graduation.
During the last six weeks, McCray has evolved from the best player on a second-division Big 12 team into a bona fide superstar capable of carrying a team — yes, like Danny Manning — on her shoulders.
Still, no one — not even Manning — can win a game going one-on-five and McCray's supporting cast rarely chews the scenery or flubs a line. Danielle's "miracles" know their capabilities and incapabilities.
Like McCray, Sade Morris is a 5-foot-11 junior. She's an accurate short-range shooter who is nearly automatic at the free throw line. Morris isn't as strong as McCray, but she's lithe and athletic and usually draws the other team's leading scorer on defense.
A psychology major, Morris hails from Norman, Okla., and wasn't a priority recruit of hometown Oklahoma University, so her mojo is often predicated on showing the Sooners they were myopic during recruiting.
Together, McCray — called Dee by her teammates — and Morris — usually referred to as Day because her first name is pronounced Shah-day — are the Jayhawks' first scoring options.
McCray and Morris operate in wing positions in a double-post offense that includes sophs 6-foot-5 Krysten Boogaard and 6-foot-2 Nicollette Smith up front and 5-foot-8 senior Ivana Catic at the point.
While an imposing presence in the paint, Boogaard hasn't developed the consistency coach Bonnie Henrickson had hoped for when she recruited her out of Regina, Saskatchewan. For example, Boogaard notched 18 points in Wednesday's win over Illinois State, but failed to score in the WNIT opener against Creighton.
A political science major, Boogaard has four older brothers, two of them professional hockey players.
Smith may be the Jayhawks' toughest player, although McCray would certainly receive plenty of votes in that category.
Smith is a blue-collar inside defender who backs off to no one. Moreover, her offensive moxie surfaced when she drilled seven of eight free throws — all in the clutch — against Illinois State.
Curiously, although an inside player, Smith was leading the Big 12 in three-point field goal accuracy in January. But she's been in a tailspin from beyond the arc, making only one of her last 17 attempts.
A sports management major, Smith leads the team in siblings. She has six brothers and sisters.
Catic, the lone senior in the rotation, isn't fast, isn't quick and lacks offensive skills. At the same time, she's indispensable. Why? Two reasons. One, she protects the ball and two, she's a quintessential coach on the floor.
A native of Serbia majoring in management, Catic is a two-time first-team All-Big 12 academic selection.
Basically, Henderson can go nine-deep, but the KU coach used only two players off the bench Wednesday night — guard LaChelda Jacobs and post player Aishah Sutherland.
Jacobs started ahead of Catic early in the season. She's quick and athletic, but the 5-foot-10 junior from Mansfield, Texas, who is majoring in applied behavioral science, has always been turnover-prone.
Sutherland, the lone freshman on the active roster, rarely played until late January when Henrickson finally decided she couldn't keep her most athletic player on the bench any longer.
When the 6-foot-2 native of Perris, Calif., is hot she's really hot, but when Sutherland is not she's, well … you know. During the WNIT, she has been on, averaging nearly 12 points and nine rebounds — splendid numbers for a non-starter.
Depending on the foul situation involving the starters, Henrickson isn't afraid to call on guard Kelly Kohn and forward Porscha Weddington, both juniors, to eat minutes. But that's as deep as the KU coach usually goes.
More like this story on KUsports.com